Lithuania counting losses from Russian trade embargo
Published time: 1 Apr, 2016 09:00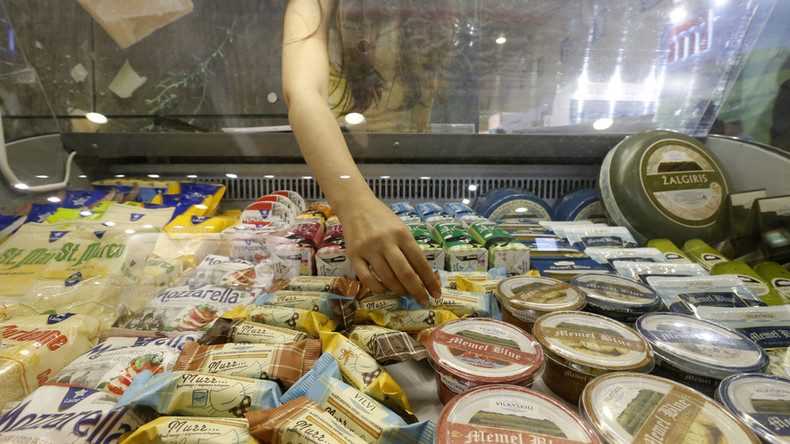 While Lithuania has been one of the fiercest proponents of sanctions against Russia, it has also become one of the main losers from Moscow's trade ban. Lithuania's exports to Russia plummeted by 38 percent last year.
According to Russia's Foreign Economic Information Portal, food exports from the Baltic country to Russia plummeted almost 60 percent in the first three quarters of 2015. Clothes exports fell 41 percent with machinery exports sinking 43 percent in the same period.
"When the Russian market strengthens, Lithuanian dairy and other food producers are likely to return with a bang," Jekaterina Rojaka, chief Baltic economist at DnB Bank in Vilnius, told Bloomberg.
"While immensely risky, the Russian market has always been very profitable," she said.
Despite the Russian trade embargo, Lithuanian producers have been trying to export cheese to what President Dalia Grybauskaite has called a "terrorist state."
In April 2015, Lithuanian exporters tried to get their cheese into Russia disguised as Chinese tofu. To ensure their brands aren't forgotten, Lithuanian producers have given the right to Russian producers to make the cheese under license in Russia.
"Someday trade with Russia will be resumed, but until that time we want to maintain position in the market. We are satisfied by the decision to transfer production under Rokiskio brand to Russia," said CEO Dalius Trumpa.
However, after the Russian trade embargo is lifted, unlike French and Italian goods, the return of Lithuanian products to the Russian market is not guaranteed. After the 2008 Russian-Georgian conflict and the following trade ban from Moscow, Georgia has failed to return its position as the key supplier of mineral water and wine after the lifting of the embargo.