Stock markets down after Brussels blasts
Published time: 22 Mar, 2016 12:17
Edited time: 22 Mar, 2016 18:15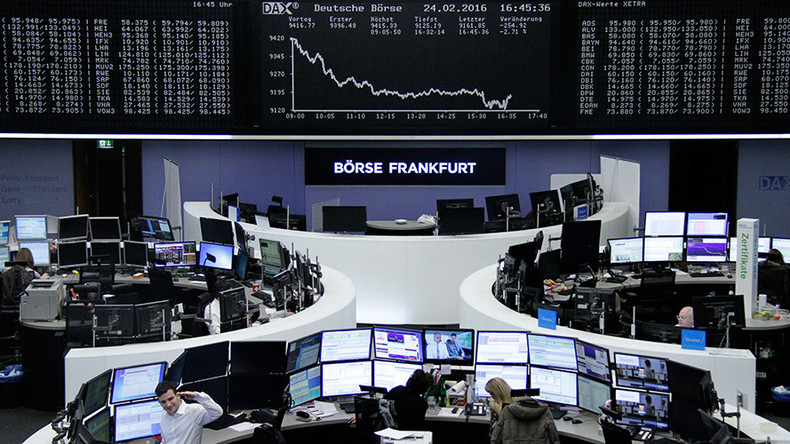 The deadly attacks in Brussels have made investors turn away from European stocks and rush for gold and government bonds. Tuesday's biggest losers are airlines and hotels.
"The initial reaction in financial markets has been airline stocks all lower, and safe-haven capital flow with gold, German government bonds and the Japanese yen in demand," Brenda Kelly, head analyst at London Capital Group told Reuters.
"The news has certainly overshadowed much of the eurozone economic data this morning," she said.
As of 11am GMT, Air France-KLM was down as much as 5.34 percent, Ryanair was losing 2.59 percent, while Lufthansa shares slid 1.59 percent.
UK's InterContinental Hotels was losing 2.49 percent of its value, while shares in France's Accor hotels plummeted 4.05 percent.
European indices were in the red, with London's FTSE 100, Germany's DAX and the CAC 40 in Paris each down about half a percent. The indices have recovered during afternoon trading after being down sharply in the immediate aftermath of the attacks in Brussels.
Early trading in the US also saw major stocks lose steam. The Nasdaq was down 0.42 percent, the S&P 500 was off 0.41 percent, while the Dow Jones Industrial Average slid 0.38 percent.
"Coming up to the Easter holiday, people are going to be very reluctant to put more money into these markets. If anything, they will be more likely to take money out," Michael Hewson, chief market strategist at CMC Markets in London told Reuters.
"Anything like the events we're seeing in Brussels this morning is going to weigh on risk sentiment and risk appetite," he added.