Nestle admits possibility of slave labor in its coffee supply chain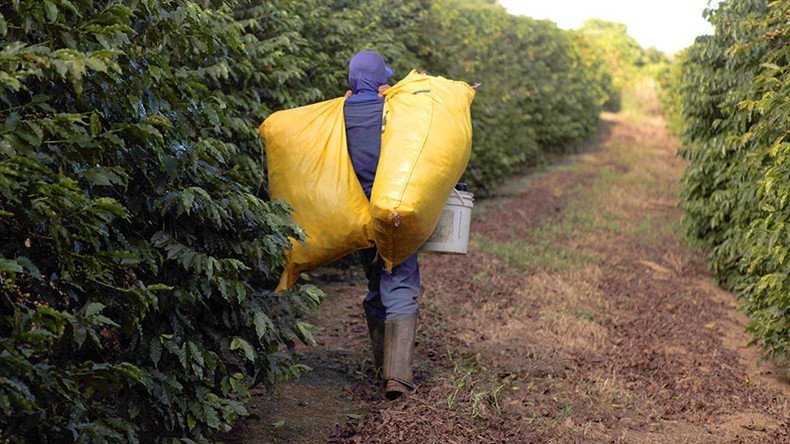 Two of the world's largest coffee companies Nestle and Jacobs Douwe Egberts say beans bought from Brazilian plantations may have been grown using slave labor because they do not know the names of all the plantations that supply them.
This followed an investigation from the Danwatch media and research centre which confronted the two companies with the possible infraction.
"Two coffee giants [together account for 39 percent of the global coffee market – Ed.] admit that coffee from plantations, where working conditions resembled slavery according to the Brazilian authorities, may have ended up in their supply chains," the Denmark-based group said, adding the companies often bought beans from middlemen and exporters in a muddled supply chain.
Nestle and Jacobs Douwe Egberts told the Guardian they took DanWatch's allegations seriously and were very concerned by the findings.
"We do not tolerate violations of labor rights and have strongly maintained that forced labor has no place in our supply chain," Nestle said in a written statement to Danwatch. "Unfortunately, forced labor is an endemic problem in Brazil and no company sourcing coffee and other ingredients from the country can fully guarantee that it has completely removed forced labor practices or human rights abuses from its supply chain."
Jacobs Douwe Egberts said it had notified suppliers not to purchase coffee from known violators. "We are committed… to improve the working conditions for coffee farmers throughout the world," the company said.

Brazil is the world's largest coffee exporter, accounting for about one-third of the global market. According to Danwatch, human rights abuses are common across Brazil's coffee industry where hundreds of workers are rescued from slavery-like conditions every year. The workers often face debt bondage, non-existent work contracts, exposure to deadly pesticides, lack of protective equipment and poor accommodation.
A Brazilian coffee worker earns about $2 to fill a 60-litre sack of coffee and gets less than two percent of the retail price.
This is not the first scandal involving Nestle and slave labor. The multinational is one of the most boycotted corporations in the world as violations of labor rights have been reported in the company's factories in various countries.
The company has admitted it discovered forced labor in its seafood supply chains in Thailand. It has been accused of using child labor in cocoa farming in Cote D'Ivoire. Nestle became notorious over the baby milk scandal of the 1980s when it promoted and sold breast milk substitutes in under-developed countries in Africa and Latin America.
You can share this story on social media: