Russia to freeze oil output at January level - Putin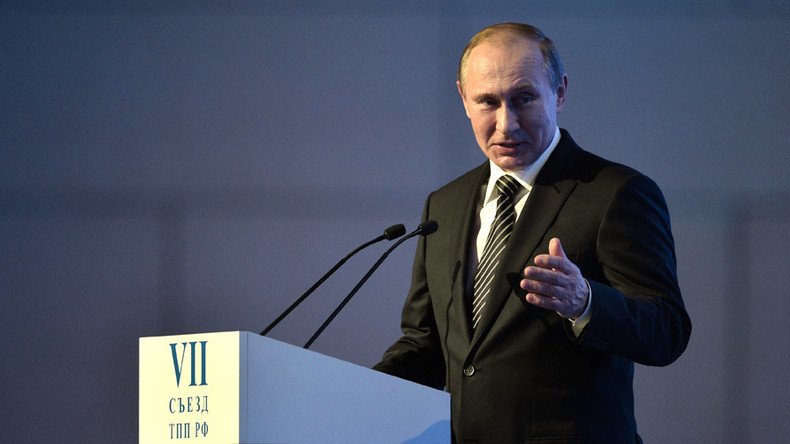 President Vladimir Putin has said Russia will freeze this year's oil output at January's production level. An agreement was reached during his meeting with the heads of the country's oil majors on Tuesday.
Putin said Energy Minister Aleksandr Novak is in constant talks with foreign oil exporters and has agreed with them that Russia will not increase oil exports.
"It's been proposed that the volume of oil production in Russia in 2016 will be based on the figures of January this year, but, of course, on average throughout the entire 2016," said the president.
On Tuesday, Novak said that over 15 countries have confirmed their readiness to freeze current output levels.
The Russian Energy Minister added that African, Latin American and Persian Gulf producers are optimistic about joining the deal which could be effective even without Iran's participation.
"Iran has a special situation as the country is at its lowest levels of production. So I think, it might be approached individually, with a separate solution," said Novak.
After oil prices hit 12-year lows of $27 per barrel in January, the world's two biggest oil producers – Russia and Saudi Arabia as well as OPEC members Qatar and Venezuela agreed on an oil production freeze at January levels. This was the first crude production accord since 2001.
Ecuador, Algeria, Nigeria, Oman, Kuwait, the United Arab Emirates have said they are ready to join the pact. Iran and Iraq say they only support steps to improve the situation in the oil market, avoiding promises to join the production freeze.
Novak earlier mentioned that producers of three-quarters of the world's oil are ready to join the deal.
On Tuesday, Putin met with the heads of the biggest Russian oil companies. The meeting was attended by the bosses of Rosneft, Lukoil, Gazprom Neft, Bashneft, Surgutneftegaz, Zarubezhneft as well as the head of the presidential administration Sergey Ivanov with presidential aide Andrey Belousov. During the meeting the producers agreed to back the oil production freeze.
You can share this story on social media: