China prepares massive lay-offs and compensation – report
Published time: 1 Mar, 2016 13:46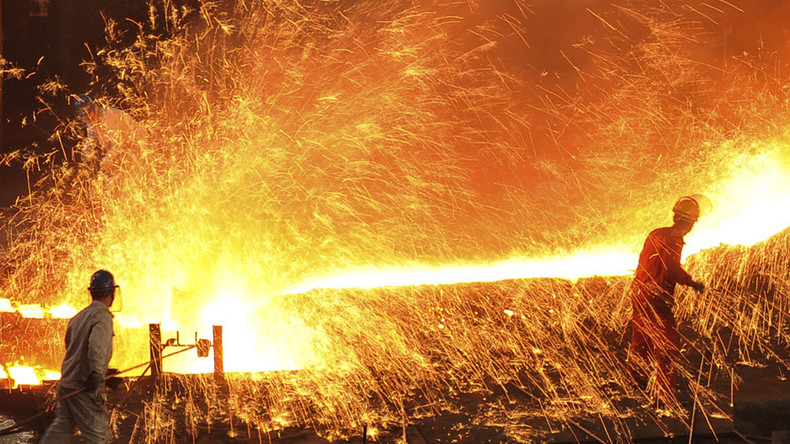 Beijing has prepared a plan to lay off five to six million state workers in the next three years, Reuters reports. According to the media, the authorities are aiming to tackle overcapacity and pollution and have prepared lots of cash to prevent social unrest.
China will spend 150 billion yuan ($23 billion) in compensation for laid-off workers in just the coal and steel sectors. The overall job cut could reach 5-6 million workers in sectors facing a supply glut, the media reports, quoting two 'reliable' sources close to the Chinese leadership.
The figure will grow according to the report, as more spending will be needed to help other industries. China will also have to pay to handle the debt left behind by 'zombie' state companies. These are firms that continue to operate even though they are insolvent or near bankruptcy; some of them continue to pay workers fearing the social impact.
In December, Premier Li Keqiang said that as "for those zombie enterprises with absolute overcapacity, we must ruthlessly bring down the knife."
Zhang Yi, Chairman of the State-owned Assets Supervision and Administration Commission, said in January that dealing with 'zombies' is difficult, but "officials need to... use today's small tremors to prevent a future earthquake."
Meanwhile, speculation about the deepening slowdown of the world's second-biggest economy has intensified.
China's official manufacturing purchasing managers' index (PMI) fell to 49 in February from 49.8 in January, which is weakest result since February 2009 and the seventh straight month of decline. Any reading below 50 means contraction.
"While the Chinese New Year may have distorted the PMI figures in January and February, the average level of the two months still remained at 49.2, below the benchmark level," said ANZ analysts in a research note, quoted by the FT.
Last year, China reported its weakest economic growth in 25 years at 6.9 percent. It's expected that slowdown will continue this year. Beijing has set the goal at 6.5-7 percent GDP growth in 2016.