Argentina settles dispute with five bondholders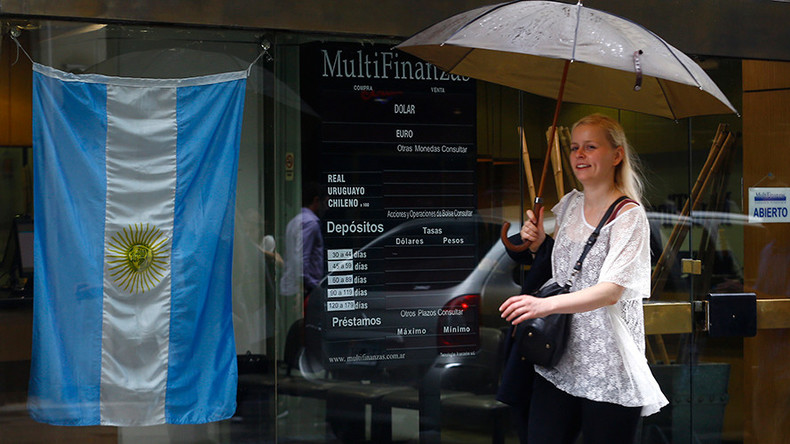 Buenos Aires has reached a settlement with several bondholders for $250 million and €185 million to end a decade-old court battle, Associated Press reported citing the appointed mediator Daniel Pollack.
The settlement involves bondholders including Lightwater Corp, Old Castle Holdings, VR Capital, Procella Holdings and Capital Ventures International, according to the mediator.
The government expected to pay $6.5 billion to settle claims of about $10 billion by bondholders who refused to participate in the country's debt restructuring.
In 2005 and 2010 Argentina suggested its debt holders swap bonds at a steep discount of up to 70 percent off their original value. The move was expected to ease the country's financial crisis following its 2001 default on $100 billion in bonds.
While 93 percent of bondholders agreed on lesser-valued bonds, others, including US hedge funds, refused to participate. The hedge funds sued Argentina in US courts instead.
In a written ruling Friday, US Judge Thomas Griesa said Argentina's new government had consistently declared a desire to resolve its dispute with foreign investors and the new stance had been welcomed by the US.
He recognized Argentina's "earnest efforts to negotiate and its striking change in attitude" since President Mauricio Macri took office in December and has made settling the dispute a top priority for the country.
READ MORE: Argentina accuses US judge of being 'imperialist' after debt plan ruling
Ending the dispute with bondholders is critical for Argentina as it prevents the country from tapping credit markets.
"Allowing the republic to re-enter the capital markets will undoubtedly help stimulate its economy and thus benefit its people," said the judge. "It might even encourage other indebted nations to choose compromise over intransigence."
Argentina's total debt stands at about $20 billion and the government intends to issue bonds for $15 billion, according to the country's Ministry of Economy and Finance.
You can share this story on social media: