Russia has 25% of global arms sales, second only to US – study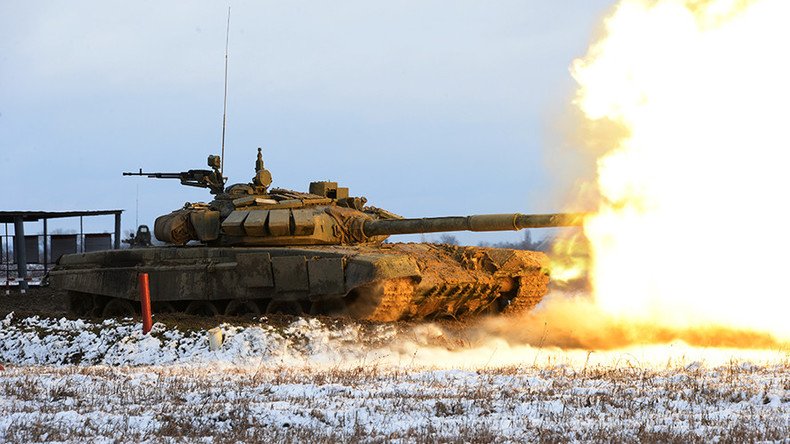 Russia and the US remain the largest arms sellers in the world, holding 58 percent of the global military market, latest research by the Stockholm Peace Research Institute (SIPRI) says. Other top exporters languish far below in the list.
The Sweden-based Stockholm Peace Research Institute (SIPRI), one of the most respected think tanks in the world, has updated its international arms sales statistics as of February 2016. The top-5 list of global arms sellers included the US, Russia, China, Germany and France.
In 2011-2015, the research says, Russia held a 25-percent share of the total arms sales market, surpassed only by the US with 33 percent. The Russian military industry has sold weapons to 50 countries, and India was its main client receiving 39 percent of all Russia's arms transfers.
Indian armed forces are undergoing massive modernization that requires obtaining state-of-the-art military high-tech and hardware. Over the past few years, India has purchased a huge amounts of arms from Russia, most notably Ka-226T and Mi-17V5 helicopters, and naval and ground-based weapons systems.
India's flagship aircraft carrier, the INS Vikramaditya, first commissioned in the Soviet Union in 1987 as the Baku, then relaunched in 2008, was handed over to India in 2013. Its 34-strong air group comprises Russian-made MiG-29Ks, and a navalized version of the highly reliable MiG-29M fighter jet.
During the Indian PM's visit to Moscow in December 2015, it was revealed that India's military had approved the purchase of cutting-edge S-400 air defense systems, among other arms deals estimated at over $7 billion in total, according to Russian media.
SIPRI's study says China and Vietnam have been procuring mostly Russian-build military-use engines, air defense systems and combat aircraft as well as ships and submarines.
The main clients of the world's top arms exporter, the United States, were Saudi Arabia, UAE and Turkey. All three countries are heavily engaged in the Syrian conflict as well as several other conflicts in the Middle East. The Turkish military has recently shelled Kurdish and Syrian forces on Syria's territory. Ankara is threatening an armed invasion in Syria to suppress the "Kurdish terrorists," and is suspected of having ties with Islamic State (IS, formerly ISIS/ISIL) that may include weapons and other supplies.
Saudi Arabia and UAE have been calling to invade Syria "to fight IS," with Damascus promising to return any aggressor "to their countries in a wooden coffin."
Civilian casualties in Yemen as Saudi-led coalition uses US-made cluster bombs – HRW official to RT
Riyadh was also accused by international rights groups of using indiscriminate weapons, such as cluster munitions, in its war against Yemeni Houthis. Mary Wareham, advocacy director of the Arms Division of HRW, told RT earlier in February that some of those munitions used by the Saudi military were made by "US-based companies."
There were 50 arms exporters in the world in 2011-2015, with 153 countries importing weapons, the study said.
You can share this story on social media: