Putin: Russian military potential increasing every year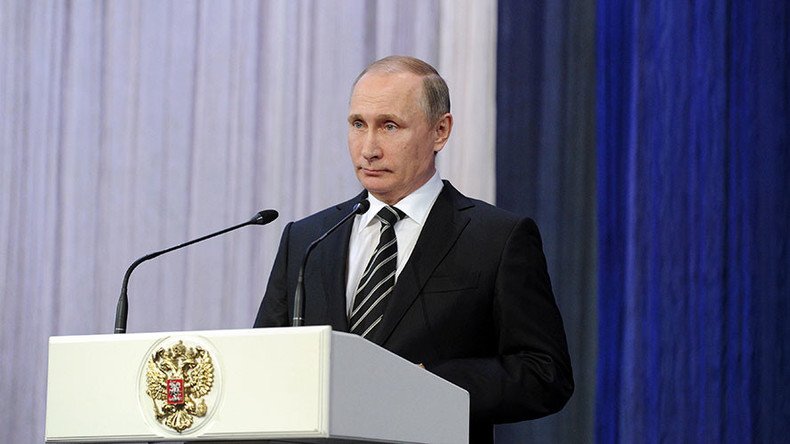 The development of the armed forces will always be among the most important tasks for the Russian state, Vladimir Putin said in a speech dedicated to Defender of the Fatherland Day, also praising the country's aviation and navy fighting terrorists in Syria.
"Our armed forces must always be ready to respond quickly and adequately to any potential threats, stop any provocation and aggressive actions," Putin said during a gala event dedicated to the upcoming holiday.
The Commander-in-Chief stressed that "a significant step has been recently made to strengthen the Army and the Navy. The capabilities of Aerospace Defense Forces and the Navy, the potential of strategic deterrence are increasing every year; the military groupings in key strategic areas have been strengthened."
"The level of operational and combat preparedness of the military is increasing; the units are being systematically equipped with the latest weaponry and military hardware; and the Russian defense industry is focused on the development and production of advanced weapons systems," he said.
"Strengthening and development of the armed forces and the entire Russian military complex will always be among the most important task of the state," the president assured.
Putin also praised the Russian pilots, military sailors and troops taking part in the anti-terrorist operation in Syria, saying that "their job deserves the highest mark."
"In the difficult conditions they assist the Syrian government forces and other participants of the anti-terrorist struggle in crushing the militants, save civilians from violence, barbarism and tyranny," he stressed.
Russian aviation, with the help from the navy, has been carrying out daily airstrikes against Islamic State, Al-Nusra front and other jihadist groups in Syria since September 30, 2015.
The campaign, which saw thousands of terror targets destroyed, was launched at the official request of Syrian leader Bashar Assad.
Putin stressed that despite its military might Russia "has always tried to resolve all disputable situations via political, diplomatic means; contributing to the stabilization of the situation in different countries, helping to extinguish the acute conflicts on numerous occasions."
"We will strive to do same in this case," Putin said, referring to Syrian conflict.
The president stressed that the military has always served as a solid pillar of the Russian state, the protector of the country's stability, sovereignty and territorial integrity, symbolizing it power and national dignity.
READ MORE: 'Russian operation in Syria is our salvation' – top Syrian Catholic bishop to RT
Defender of the Fatherland Day is an annual public holiday in Russia and some post-Soviet countries, celebrated on February 23. It honors those, who serve or have served in the military, and is also often referred to as 'Men's Day' (although the Russian military does not exclusively consist of men) to act as a counterpart to International Women's Day on March 8.
You can share this story on social media: