India takes China's crown as fastest growing economy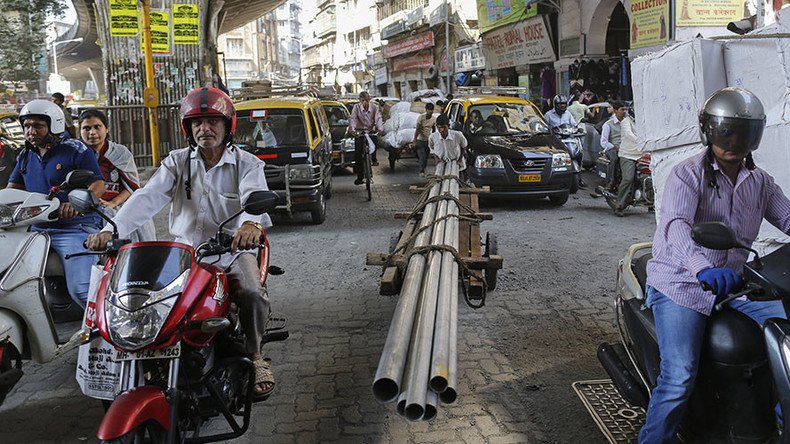 Despite the tough times for most emerging markets, India continued its economic expansion becoming the fastest growing economy of 2015. With a growth rate of 7.5 percent India outpaced China's 6.9 percent.
India's growth was 7.3 percent in the last quarter of 2015, according to official government figures. New Delhi says it expects growth for the fiscal year ending March 2016 to accelerate to 7.6 percent – the highest for five years.
Growth of the world's second-largest economy, on the contrary, slowed to 6.9 percent last year from 7.3 percent in 2014. This was the worst result for China in 25 years.
Experts say India's economic growth was boosted by sliding oil prices, investment and demographic factors.
India is the third largest importer of crude oil behind China and the US. Energy makes up almost 70 percent of the country's imports.
READ MORE: China's economic growth slowest in quarter century
The oil effect was the biggest driver of growth, according to India's chief economist at JPMorgan Sajjid Chinoy who was cited by the Financial Times.
But a boost in investment also made a difference. The country has attracted around $26.5 billion in foreign investments in the first nine months of 2015 which is 18 percent more than in the same period the previous year.
The country's population is projected to be the world's youngest by 2020, with a third of Indians aged 15 to 34 years.
India's Prime Minister Narendra Modi has promised to modernize the country, boost manufacturing and infrastructure, and attract more investment.
However, some economists remain skeptical about the latest growth figures for Asia's third largest economy, considering weak exports, railway freight, and other financial data.
"The challenge before India is to sustain a 9-10 percent growth rate for the next three decades," said Amitabh Kant, India's secretary for industrial policy and promotion. "This can be achieved only if India continues to offer an easy ecosystem for businesses to flourish and robust manufacturing sector growth."
You can share this story on social media: