Kiev bans Russian trucks from entering Ukraine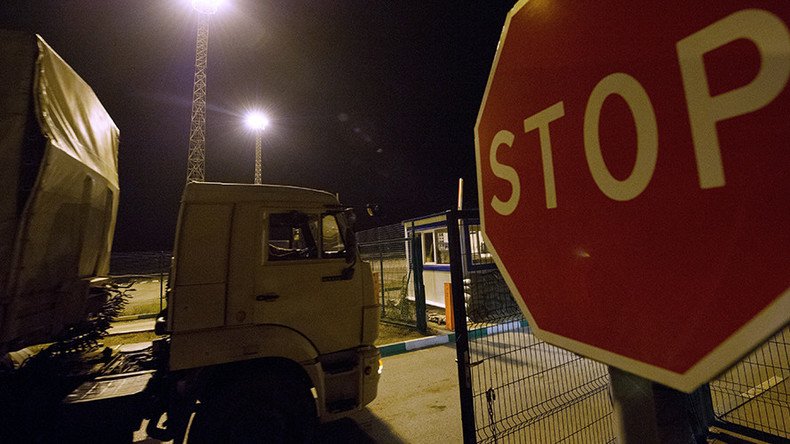 Ukraine has decided to ban Russian trucks entering the country in response to Moscow blocking the transit of Ukrainian trucks through its territory. Russia has accused Kiev of failing to deal with Ukrainian nationalists who are stopping Russian trucks from travelling through the western and northern regions of Ukraine from the European Union.
More than 500 trucks are prevented from entering the country, as blockade leaders want Kiev to halt the transit of Russian goods.
In a tit-for-tat response, Russia has banned Ukrainian trucks from entering the country.
"The measures will be in place until a settlement of the illegal blocking of Russian vehicles in Ukrainian territory by Ukraine," Russia's transport ministry said in a statement.
The ministry added that what is happening is a flagrant violation of the agreement between the governments of Russia and Ukraine on international transport.
Ukrainian Prime Minister Arseny Yatsenyuk said the transit of Russian trucks through Ukraine has been stopped until Moscow explains the changes concerning the transit of Ukrainian trucks through Russia.
Transporting goods by truck between Russia and Ukraine has already been complicated since the Kremlin changed transportation rules for Ukrainian goods exported to Kazakhstan through Russia this year. Ukraine must now transport goods to Belarus in sealed containers. The freight must have GLONASS navigation system installed when the goods enter Russia.
The rule change came after Moscow suspended the free trade treaty with Ukraine at the beginning of the year. The Russian government said Ukraine's open borders with the EU compromise the country's interests and economic security. Moscow is concerned that without such a barrier, Ukraine could illegally supply embargoed European goods to Russia.
The Kremlin also banned food imports from Ukraine in response to the country joining anti-Russian sanctions.
Earlier, Poland stopped Russian trucks using its territory after a transit agreement expired and Moscow and Warsaw failed to agree a new one. As a result, Russian trucks traveling from Western Europe have been using routes through Ukraine, Slovakia and Hungary.
You can share this story on social media: