Western sanctions on Russia have 'zero political outcome' & result in lost profits – Medvedev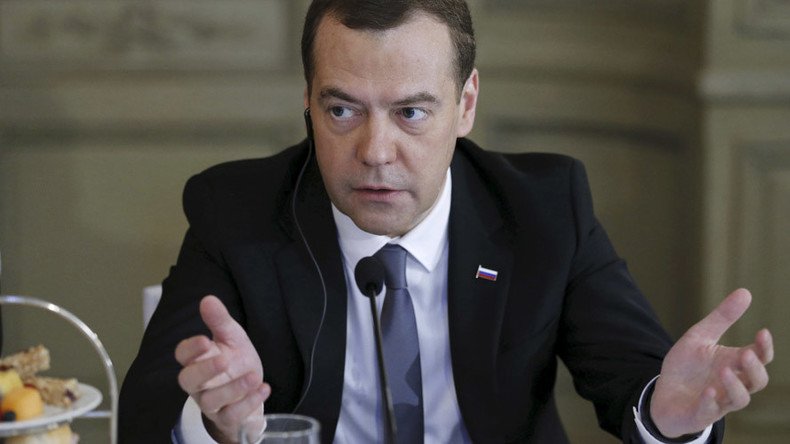 US and EU sanctions introduced against the Russian economy will bring zero political outcomes, only hurting bilateral trade and resulting in lost profits, Prime Minister Dmitry Medvedev said at a meeting with German businesspeople in Munich.
"[The sanctions] are hurting interests of specific industries, export-oriented companies that lose their market shares earned through years of hard work. The question is whether it is profitable. I have already said, of course, not. The question is also whether it will bring political results, which were expected by political circles while making corresponding decisions. No, it also will not," Medvedev said.
Since Crimea's reunification with Russia in March 2014, Brussels and Washington have ratcheted up economic sanctions against Moscow several times. The restrictions target major Russian banks and oil corporations and blacklist dozens of senior officials accused by the West of feeding the self-proclaimed Donetsk and Lugansk People's Republics.
The sanctions have also blacklisted dozens of senior Russian officials and firms, as well as Donetsk and Lugansk rebel commanders.
"I'm always saying that the problem is not sanctions, the problem is opportunities missed and money lost," Medvedev added, referring to Russian-German business ties.
Oil prices have nosedived in recent months, and the West's sanctions themselves led to a dramatic decline in Russian-EU trade. Both Russia and Europe lost more than one-third of their 450-billion worth turnover at its peak times, which now makes up only€ 235 billion annually. "Well, it's not a good story," he added.
The longer anti-Russian sanctions continue to remain in place, "the fewer chances the Europeans would have to keep their market shares in Russia, either as suppliers or investors," the Russian prime minister warned. "You have to move faster."
"We have many joint projects in industries, energy, metallurgy, transport, chemistry, engineering, that's thousands of jobs, over 5,500 companies with German capitals have their stocks on Russian markets," he said, appealing to Germany's business heavyweights attending the meeting.
In turn, German business circles told they expect the sanctions against Russia to be lifted from summer 2016 on.
"We're aware that economy would be suffering without a new détente process in Europe as well as settlement of the Ukrainian conflict. Lifting the sanctions depends on implementing the Minsk agreement, that's the EU's line," Wolfgang Buechele, chairman of the Committee on Eastern European Economic Relations and number 5 in German Forbes list said.
"However, we also see the following: Ukraine doesn't fulfill its obligations, and therefore we hope process of lifting the sanctions would begin at least from summer [2016] onwards."
Nord Stream 2, the flagship Russian-European pipeline project, is also approaching completion despite "artificial attempts by some Western countries to politicize it," Medvedev said.
"I've recently discussed the project with the Finnish premier and my colleagues from Austrian government and the other colleagues. We hope that the final decision would be made, not to mention it's profitable for German and European businesses in general."
Nord Stream is an offshore natural gas pipeline stretching between Russian city of Vyborg to Greifswald in Germany that is owned and operated by Nord Stream AG, in which Gazprom, Russia's energy giant, owns a 50 percent share.
You can share this story on social media: