Huge 122-carat diamond worth $1.5mn found in Russia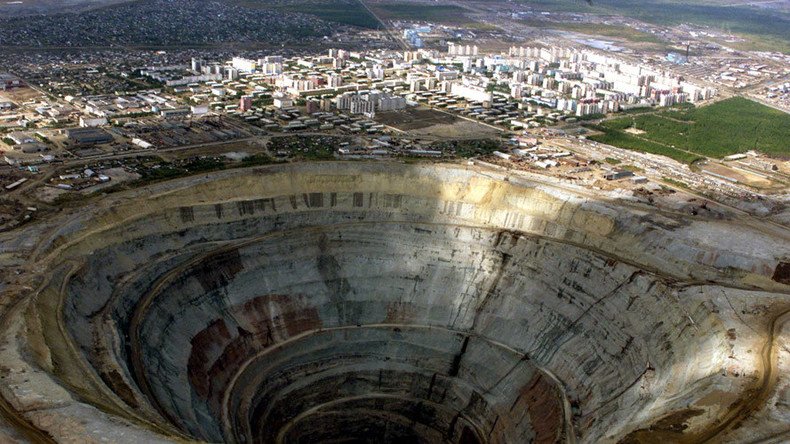 Russian diamond producer Alrosa has recovered a 121.96 carat diamond at its Jubilee kimberlite pipe in Yakutia in north east Russia. The precious stone is slightly smaller than a golf ball.
"The diamond has an octahedral shape; its dimensions are 31.28mm x 30.00mm x 28.57mm. The crystal of '2 Black Sawables 3 color' quality is transparent with moderate yellowish hue. There are small olivine, graphite and sulfide inclusions in this crystal," Alrosa said in a statement.
"The diamond's value can be estimated at about $1.5 million," diamond expert Sergei Goryainov told TASS.
Alrosa's Jubilee pipe is known for its large findings. Last year the company recovered several diamonds from 50 to 138 carats, including a 76.07-carat diamond. The gem, worth $430,000 was named to honor the 70th anniversary of victory in the Great Patriotic War of 1941-1945.
In 2014 Alrosa sold a diamond weighing 47.5 carats for $1.8 million at Sotheby's in New York.
One of the world's largest producers of diamonds, Alrosa accounts for about 25 percent of world production and 95 percent of all diamonds mined in Russia.
The world's largest producers of natural diamonds are Russia, Congo and Botswana, which together account for 60 percent of global production.
In November a Canadian company extracted a 1,111 carat diamond in Botswana. It became the second biggest diamond ever extracted, and was about the size of a tennis ball.
READ MORE: ​Diamond worth $430,000 found in Russia
The record breaker is the 3,106-carat Cullinan diamond found near Pretoria in South Africa in 1905. The Cullinan diamond was presented to Britain's King Edward VII and cut into nine major gemstones and 96 smaller stones. One of them, weighing 317.4 carats, is set in the Imperial State Crown.
You can share this story on social media: