Chinese stock markets halted after tumbling 7% in 1st 2016 session, dragging Europe down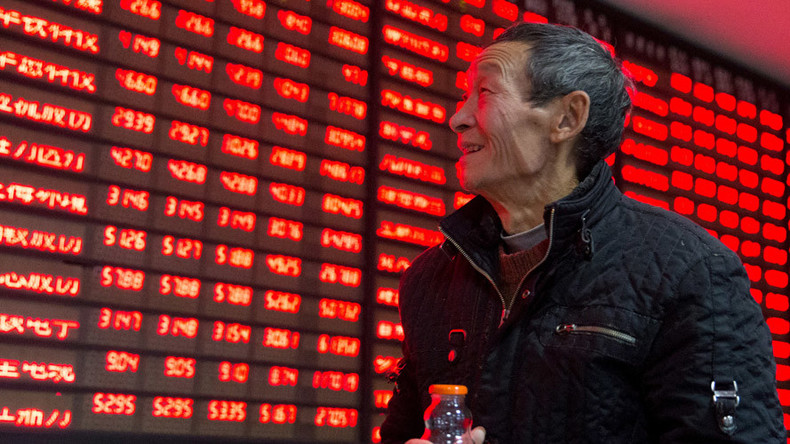 Trading was suspended on Chinese markets after stocks tumbled 7 percent in the first trading of the year, triggering the new "circuit breaker" system limiting volatility, which was introduced in December. The fall from Asia led to a slump in European stocks as well.
The 15-minute suspension happened about 90 minutes before market's regular closure and followed a brief 15-minute halt early in the afternoon, when the main indexes had shed 5 percent.
The blue-chip CSI300 index ended down 7 percent by the time the trading was stopped early, while the Shanghai Composite Index lost 6.9 percent. The technology-driven Shenzhen Composite was the worst performer, falling by more than 8 percent.
The market plunge comes after the publication on Friday of an official manufacturing survey focusing on larger, state-owned Chinese companies. The survey showed a fifth month of contraction, spelling bad news for the country's economy. A similar private survey focusing on smaller firms came on Monday, indicating a 10th consecutive month of shrinking manufacturing.
Another factor is the imminent removal of a ban on major shareholders from selling stakes, which was put in place during the summer stock crash and is expected to be lifted Friday. The ban was put in place in July as Chinese stocks were falling fast. They have since rebounded 20 percent.
"The slump apparently triggered intensified selling, while the triggering of the circuit breaker seems to have heightened panic, as liquidity was suddenly gone and this is something no one has experienced before," said Gu Yongtao, a strategist at Cinda Securities, told Reuters.
"It was a stampede," he added.
The Chinese tumble and the accelerated depreciation of the yuan drove markets elsewhere in Asia into the red. Japan's Nikkei Stock Average fell 3.1 percent, Hong Kong's Hang Seng Index fell 2.7 percent and South Korea's Kospi lost 2.2 percent.
Australia weathered the session better, offsetting the Asian turmoil with a jump in oil prices caused by the brewing conflict between Saudi Arabia and Iran, which boosted Australia's energy sector. The S&P/ASX 200 index closed down 0.5 percent.
European markets slumped Monday, with the pan-European STOXX 600 down over 2.4 percent and Germany's down over 4 percent. London's FTSE 100 performed better, losing 2.4 percent while France's CAC 40 was down over 2.6 percent.
Brent crude was up as much as 3 percent to $38.40 a barrel earlier Monday amid the sectarian standoff caused by the execution of prominent Shiite cleric Nimr al-Nimr by Saudi Arabia.
You can share this story on social media: