Ukraine set to lose preferential trade with Russia after failed last-minute talks in Brussels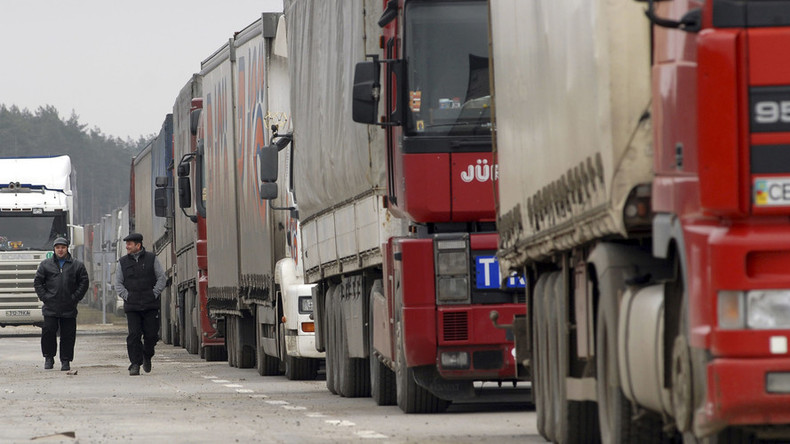 Following a failed round of negotiations in Brussels, Russia will inevitably suspend the free trade agreement with Ukraine within the Commonwealth of Independent States, once a trade deal between Kiev and European Union goes into effect in the new year.
The negotiations between Moscow, Kiev and Brussels were a last chance attempt for the parties to reach some kind of compromise and avoid Russia's suspension of a free trade zone agreement with Ukraine. In mid-December Russian President Vladimir Putin signed a decree on the suspension of free trade with Ukraine as of January 1, 2016, as Kiev's move towards opening its borders with the EU compromises Russia's interests and economic security. Moscow is also concerned that without such a barrier, Kiev could illegally supply embargoed European goods to Russia.
Meanwhile a food embargo on products entering the Russian market from Ukraine starting January 2016 is a separate issue which has nothing to do with the failed talks, according to Economic Development Minister, Aleksey Ulyukayev, but is rather a proportionate response to Ukraine's joining US and EU-backed anti-Russian sanctions in August.
"We did not impose unilateral sanctions on Ukraine. It is Ukraine who introduced in August this year unilateral sanctions against Russian individuals and legal entities," Ulyukayev said.
The minister, who headed the Russian delegation, stressed that the talks in Brussels were unsuccessful because Ukraine and Europe had failed to take Russia's concerns into account.
"We have completed the tour of our work (6 ministerial meetings and nearly 20 expert meetings). The Russian federation showed maximum flexibility in the negotiations on the association [agreement] between Ukraine and the EU," Ulyukaev told Interfax. "But we have received conclusive unwillingness of partners from the EU and Ukraine to take into consideration the Russian concerns about the association agreement."
The Minister said that negotiations with Ukraine are set to continue, but only after EU-Ukraine deal inevitably comes into force. At the same time, Ulyukaev said that both Brussels and Kiev seemed to have reacted "emotionally" after it became obvious that Moscow had been serious about suspending the free trade agreement to protect its markets.
The Minister stressed that Russia has no intention to "rip apart" its economic relations with Ukraine, but a new set of rules dictated that Ukraine will not be offered preferential treatment within the Russia-led customs union.
Despite Moscow's warnings and efforts to work with Kiev on a range of economic issues, Brussels were quick to lay the blame for the failed negotiations at Russia's feet.
"The decision taken by Russia to suspend the CIS FTA obligations towards Ukraine added an element of pressure that violated conditions agreed by ministers to engage in the trilateral talks," the memorandum on the trilateral talks reads.
"Any threats or retaliatory measures by Russia contradict the mandate, objective and spirit of these talks," the document said.
"We were quite close, had there been a will, we would have come to an agreement. But there wasn't enough flexibility from the Russian side to do that," EU Trade Commissioner Cecilia Malmström said after the meeting.
The Commission however agreed to keep the trilateral working in order after January 1, 2016, to find solutions to specific concerns raised by Russia. The EU claims that Ukraine doesn't have to choose between an agreement with the EU or with Russia as free-trade deals are "complementary" to each other.