Global oil glut to persist in 2016 – IEA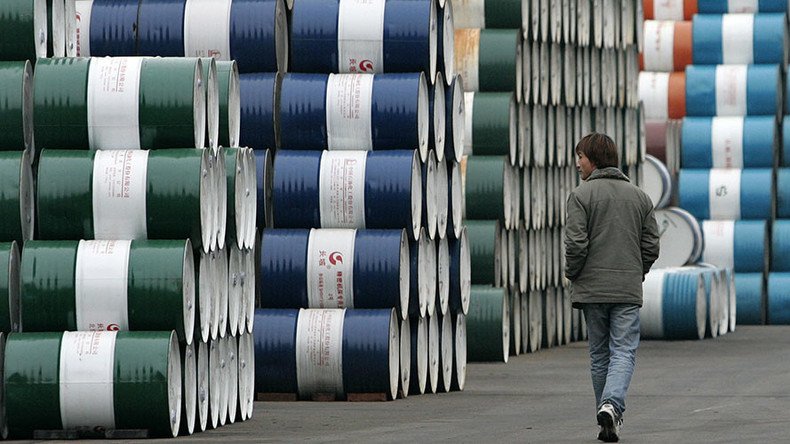 While OPEC keeps pumping at a record pace, the International Energy Agency says the global oil surplus will last until late 2016.
"Benchmark crude approached seven-year lows in early December after OPEC opted to continue producing at will to defend market share. Unrelenting oversupply in world markets had already weakened benchmarks during November. ICE Brent was last trading at $39.77/bbl with NYMEX WTI several dollars lower at $36.87/bbl," the agency said in its report published on Friday.
"OPEC crude output edged 50,000 barrels per day higher in November to 31.73 million barrels per day. Record production from Iraq and higher supply from Kuwait offset losses from African members," the report added.
The agency admits the Saudi-led policy of dumping oil and cutting prices seems to be working, taking a toll on non-OPEC supply.
Production from outside OPEC will contract by 600,000 barrels a day next year, compared with a surge of 2.4 million a day in 2014, the IEA predicts.
"US light tight oil - the driver of non-OPEC growth - shifts into contraction. As companies make further spending cuts in reaction to sub-$50/bbl oil, the impact on supplies - both from non-OPEC and OPEC - will be even more pronounced in the longer term," the agency said.
The world's crude demand growth will slow to 1.2 million bpd in 2016, down from a five-year peak of 1.8 million reached in 2015, as the boost from cheap fuel prices wears off, the IEA added.
Brent crude has lost almost two-thirds of its value since July 2014 and was trading at $39.170 per barrel in London on 10:28am GMT on Friday.
You can share this story on social media: