Global markets shaky but resilient after Paris attacks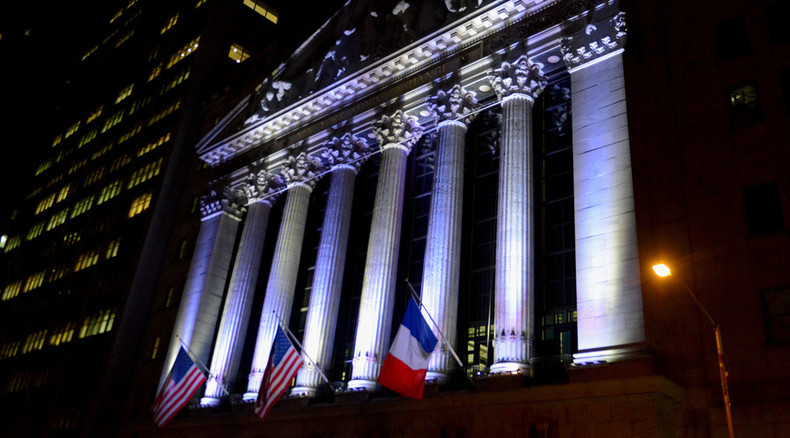 European equities opened lower but are beginning to recover on Monday in the aftermath of the Paris terror attacks.
France's CAC 40 was down a fraction as of 12:30 GMT. Britain's FTSE and Germany's DAX opened lower, but have since moved into positive territory. However, analysts expect markets to fall further through the day.
Asian markets fell to six-week lows. In Hong Kong, the benchmark Hang Seng index slipped 1.72 percent, while Japan's Nikkei 225 closed down 1.04 percent.
"The tragic events in France are likely to weigh on investor sentiment and will probably encourage some risk aversion from investors. Investor sentiment towards global markets was already looking shaky as last week concluded, and the recent events are going to weigh further on this," Jameel Ahmad, chief market analyst at FXTM, told the Guardian.
The euro fell to a six-month low on Monday, down 0.5 percent to $1.0710 against the US dollar. The American currency fell 0.1 percent against the Japanese yen to 122.43, but the dollar index, which tracks the greenback against a basket of six major currencies, was flat at 99.082. The yen also gained ground against the euro on Monday, strengthening almost 0.2 percent to 131.84 against the common currency. The Chinese yuan was up 0.3 percent in Hong Kong's offshore market.
Gold price gained one percent to $1,095 per ounce as investors traditionally seek a safe haven in times of turmoil.
"The latest attack may delay the European economic recovery," chief investment officer at Bangkok-based BBL Asset Management, Peerapong Jirasevijinda told Bloomberg. "It will hit the tourism sector."
Friday's terror attacks on the French capital left more than 120 dead and hundreds injured. Eight armed terrorists, many of them rigged with explosives, staged several coordinated attacks. Islamic State has claimed responsibility for the attacks.
LISTEN MORE:
You can share this story on social media: