US probes German bank over alleged Russia sanctions-busting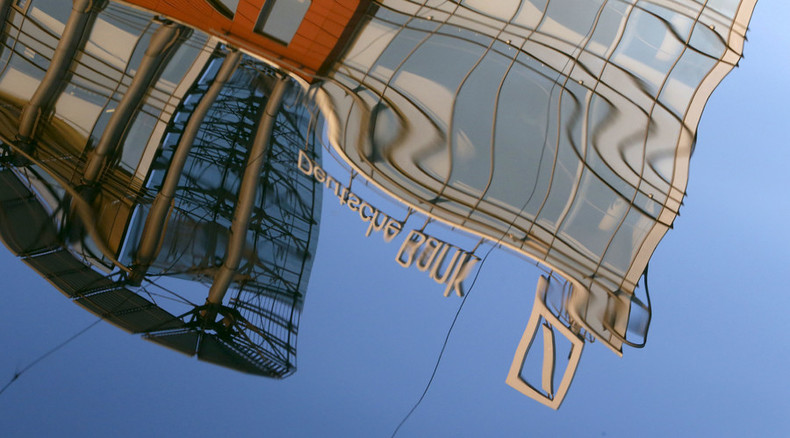 The US Justice Department and New York State's Department of Financial Services (DFS) have ramped up the investigation into Deutsche Bank's activities in Russia to examine possible sanctions violations, the Financial Times cited people familiar with the case.
The regulators are increasing the scope of the investigation into the bank because a few transactions allegedly involved US dollars and a former banker who is a US citizen, according to the newspaper.
The probe focuses on so-called "mirror trades" in which Russian clients bought securities in rubles through Deutsche Bank's Moscow office and then sold identical ones for foreign currency (including US dollars) through the bank's London office. The transactions are reportedly worth in excess of $6 billion.
The key figure in the US inquiry is the former head of Deutsche Bank's Russian equities desk American Tim Wiswell. He lost his job earlier this year during the US and EU investigation into the bank's activities. Wiswell sued Deutsche Bank for wrongful dismissal earlier this month.
READ MORE: Deutsche Bank scales back in Russia after US criminal probe
The US authorities are also examining whether Deutsche Bank had adequate compliance programs relating to Russian sanctions and if it provided accurate information to regulators, the FT said.
"Deutsche Bank is investigating the circumstances around equity trades entered into by certain clients with Deutsche Bank in Moscow and London that offset one another," the FT quoted Deutsche bank's statement. "Deutsche Bank has taken disciplinary measures with regards to certain individuals in this matter and will continue to do so with respect to others as warranted."
The FT reports that some of the bank's Russian clients are subject to US sanctions. Brothers Arkady and Boris Rotenberg, who own an energy service company and SMP Bank, were included in the US sanctions' list in March 2014.
READ MORE: Deutsche Bank hit with record $2.5bn fine for rate-rigging
One of the biggest foreign banks in Russia, Deutsche Bank suspended a number of employees working in its Moscow equities trading operation earlier this year. This followed the launch of a probe in the US over alleged money laundering in Russia.
In June, Deutsche Bank began an internal investigation into securities trades that were carried out from 2011 to early 2015