China's capital outflow hits $500bn – US Treasury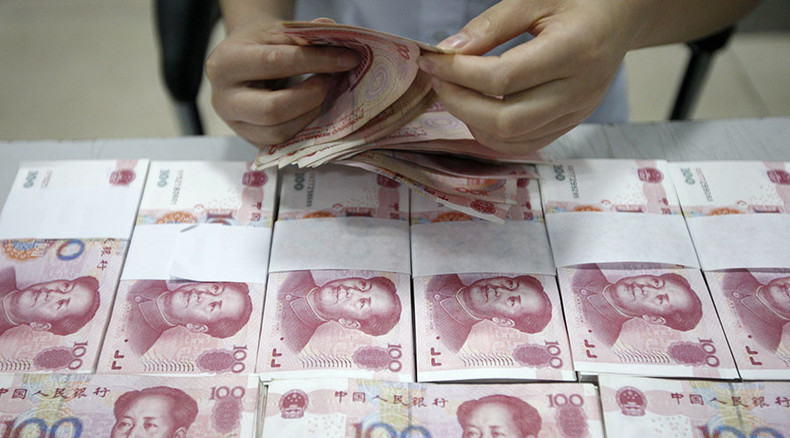 Capital flight from China reached $530 billion in the first eight months of the year, peaking at around $200 billion during the August stock market turmoil, according to the US Treasury.
Around $250 billion left China in the first half of 2015, compared with $26 billion in the same period last year, according to the Treasury's semi-annual report to Congress on the global economy.
The Treasury softened its assessment of the Chinese currency. Its April report said the yuan was significantly overvalued, while this time below its appropriate medium-term valuation.
"Given economic uncertainties, volatile capital flows and prospects for slower growth in China, the near-term trajectory of the RMB [renminbi – Ed.] is difficult to assess," Treasury economists wrote. "However, our judgment is that the RMB remains below its appropriate medium-term valuation."
Capital flight accelerated in August following China's shock devaluation of the yuan. The People's Bank of China cut its daily reference rate by 1.9 percent, its biggest downward adjustment in 20 years. The aim, according to the regulator, was to revive the country's faltering exports and support its slowing economy.
The Treasury praised Beijing for increasing transparency, saying that China acknowledged it is in its own interest to adopt the transparency standards of major reserve currencies.
"To further increase transparency, China should disclose foreign exchange market intervention regularly, including a description of transfers to finance policy bank capitalization and other official efforts and their impact on reserves and participate in the Bank for International Settlements cross-border banking and securities statistical initiatives," it added.
Some analysts say China started disclosing data in a move to support the recognition of its currency.The country has been pushing hard for the inclusion of the yuan in the International Monetary Fund's (IMF) benchmark currency basket as a way of reducing its dependence on the dollar.
READ MORE: Yuan won't join IMF reserve currency basket till September 2016
The yuan became the fourth most-used global currency for cross-border payments in August, with more than 100 countries using it for transactions.