Ukraine's $1 trillion demand from Russia shrinks to $46 billion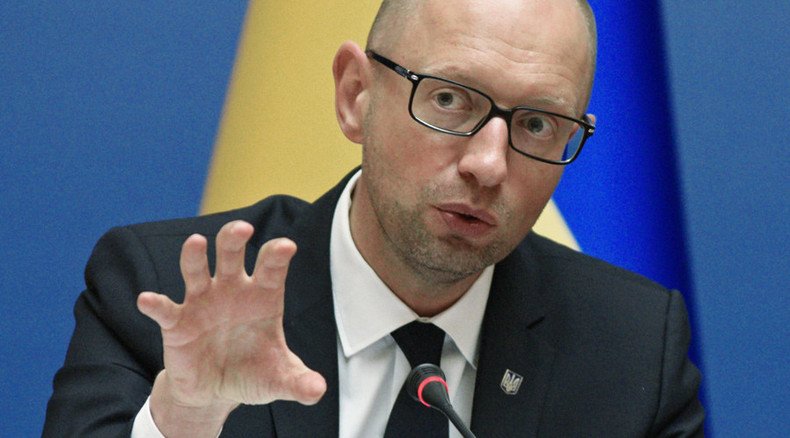 Ukraine's Prime Minister Arseny Yatsenyuk's demand that Moscow pay one trillion compensation for the loss of Crimea and alleged Russian activities in Donbass caused confusion on Thursday. Yatsenyuk's ambiguity led the media to conclude he was talking in dollars.
The Ukrainian Cabinet's press service has stepped in for the PM and said he was meaning hryvnia. One trillion hryvnia is equivalent to $46 billion.
The Kremlin was surprised by Kiev's demand.
"Crimea is the territory of the Russian Federation. Donbass is the territory of Ukraine. How did they get that one trillion? It is not clear," Russian Presidential Press Secretary Dmitry Peskov told TASS. He added that if Ukraine doesn't repay its $3 billion debt in full, Moscow will declare it in default
In June 2014, Yatsenyuk said Kiev would demand one trillion Ukrainian hryvnia ($90 billion at the time) from Russia. Since then, the Ukrainian currency has dropped almost 50 percent.
During the press conference on Thursday, Yatsenyuk also offered Russia until October 29 to accept a debt-restructuring deal over its $3 billion debt or go to the courts.
"We are ready for judicial proceedings," said Yatsenyuk.
"On October 29 we again asked Russia to decide whether they are ready to accept Ukraine's conditions," he added, urging Russia to "join normal countries that made the decision to restructure [Kiev's debt]."
"As expected, only one country did not participate in the [restructuring] vote - there is an interesting country called the Russian Federation. And the $3 billion that Russia should restructure and partially write off, remains unresolved," Ukraine's PM concluded.
Russia has repeatedly said it's not interested in restructuring Kiev's debt and intends to invest the money in infrastructure projects in its own territory.
At the end of August, Ukraine signed a restructuring agreement with Western creditors to reduce the national debt burden by about $3.6 billion. Kiev agreed with a creditor committee led by Franklin Templeton (which owns about $7 billion of Ukrainian bonds) on a 20 percent write-down of some $18 billion worth of Eurobonds.
READ MORE: Fitch downgrades Kiev to restrictive default
The current IMF policy only allows member states to miss payments to private investors. However, Moscow insists that Kiev's debt is a state one.
According to Russian Finance Minister Anton Siluanov, the IMF is ready to change the rules individually for Ukraine. Officially, the IMF's decision is motivated by a general change in the rules of the organization's funding, but "it is clear that this is done exclusively in order to freeze payments to Russia," Siluanov said.

LISTEN MORE:
You can share this story on social media: