Transaero stock drops 53%, hits all-time low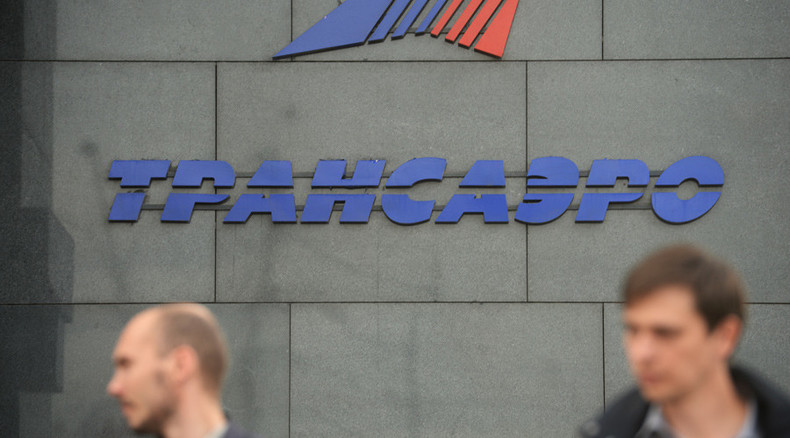 Shares of Transaero hit rock bottom plunging more than 50 percent during trading on the Moscow Exchange on Friday. Just hours before, Russian Premier Dmitry Medvedev reportedly accepted the start of bankruptcy proceedings for the country's biggest private airline.
As of 4:12pm MSK, Transaero was trading at 12 rubles (less than 20 cents) a share after the company failed to service its $4 billion debt and is on the brink of bankruptcy.
The bankruptcy of the carrier is considered inevitable by most of the mediators after the airline's shareholders failed to consolidate 75 percent plus one share that was hoped could be transferred to state-controlled Aeroflot.
READ MORE: Transaero, Russia's biggest private airline files for bankruptcy
About 5,000 Transaero employees out of 11,500 will be transferred to Aeroflot, said Russian Labor Minister Maksim Topilin.
The Russian Ministry of Finance has been reluctant to give 85 billion rubles ($1.3 billion) in state guarantees for the debt restructuring, and Transaero's creditors have rejected a restructuring deal proposed by Sberbank.
Russian lenders Sberbank, Alfabank and VTB have announced they intend to file bankruptcy proceedings against Transaero in the courts.
"Neither creditors, nor Aeroflot wanted to save Transaero after the former owners deserted the company. Aeroflot was adamant against taking on any additional burden. There were no chances for rescue," said VTB CEO Andrey Kostin.
READ MORE:
He added that VTB is now going to sell 21 airplanes it had leased to Transaero.
Sberbank has leased five or six aircraft to Transaero and is also going to sell them to other carriers, RIA Novosti reported, quoting sources at the bank.
The Russian Federal Air Transport Agency has stopped the sale of tickets, but hasn't yet revoked Transaero's license.
It's expected that Transaero tickets will be honored by other Russian airlines.
The carrier has stopped flying to several Russian cities, but flights continue to London, Tel Aviv, Paris, Hurghada, Sharm El-Sheikh and Rome.