Aeroflot confirms Ukraine flight ban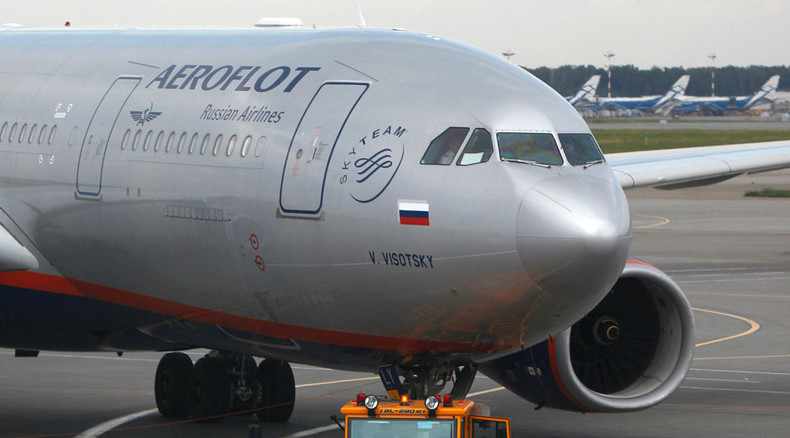 Russia's biggest airline Aeroflot has confirmed Ukrainian authorities are restricting its flights to the country from October 25. It has not been verified if it includes the use of Ukrainian airspace.
"We can confirm that we have received a letter from the Ukrainian authorities on termination of flights by Aeroflot to Ukraine with the launch of the winter time table, namely from October 25," the company's spokesman told TASS.
On Friday, the Ukrainian government banned Russian airlines Aeroflot and Transaero from flying to Ukraine. A government decree also prohibited Russian planes carrying military equipment and soldiers from flying over the country.
On September 16, Kiev imposed sanctions against 25 Russian airlines, including 2 which no longer exist. Among the prohibited airlines are S7, Ural, Red Wings and other Russian carriers.
READ MORE: Ukraine sanctions 25 Russian airlines, including 2 which don't exist
Russian Prime Minister Dmitry Medvedev has instructed the Ministry of Transport to consider the introduction of reciprocal measures against Ukrainian airlines, says the PM's spokeswoman Natalya Timakova.
Among such measures could be a ban on Ukrainian flights over Russian airspace. In 2014, when Aeroflot was rumored to be included in the first package of EU anti-Russian sanctions, the Kremlin warned that Western airlines would be banned from flights over Siberia in response. This would have cost European carriers billions of dollars in their Asia operations.
READ MORE: Airlines lose billions amid rumors of trans-Siberian flight blockade
Sanctions against Russian companies that fly to Kiev's Zhuliany Airport will slice away 30 percent of its revenue, airport chairman Denis Kostrzhevsky told Ukrainian media.
Aeroflot has stopped selling tickets to Ukraine from October 25, and is returning the money to customers that have bought tickets after that date.