UK & China look to swap cash, stocks and investment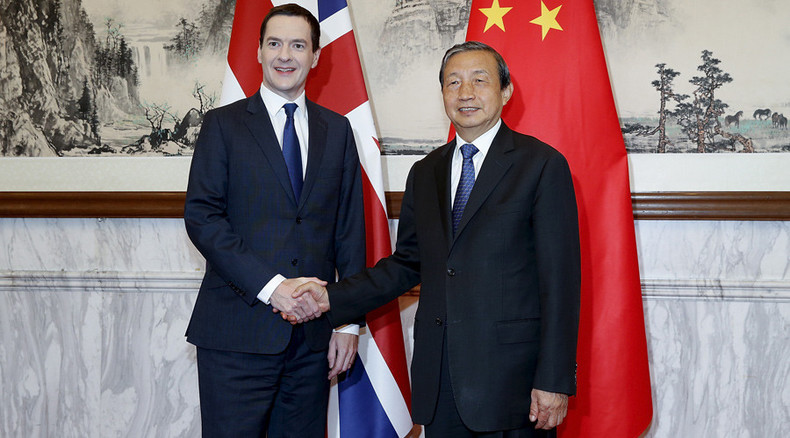 London and Beijing have agreed a number of initiatives including expanded currency swaps, stock market interconnection and Chinese investment in the UK's nuclear power industry.
Britain's Chancellor George Osborne is visiting Beijing and says the UK could be China's best partner in the West.
The two countries are planning a yuan/sterling swap line expansion, along with the issuing of Chinese short term yuan debt in London soon.
The UK wants to continue to play a role as a leading world financial center in helping the gradual internationalization of the yuan, according to Osborne.
READ MORE: Cameron lobbies for a trillion EU-China trade deal
The chancellor intends to visit the Shanghai stock exchange this week as the two countries aim to link the Shanghai and London Stock Exchanges.
"Britain should run towards China. We should be doing more business with China. We should be better connected to the Chinese economy, our financial institutions should establish stronger links," said Osborne.
He also announced the construction of the first China-designed nuclear plant at Hinkley Point in Britain. The country will provide $3.1 billion in initial government guarantees for the nuclear facility in southwest England with China's backing. The new facility could create 25,000 jobs across the UK and is expected to supply seven percent of the country's electricity needs, powering about six million homes.
However, some believe the chancellor mostly hopes to attract Chinese investment for his northern powerhouse project ahead of the Chinese President Xi Jinping's trip to the UK next month.
In 2013, direct investment by China in the UK was the highest in Europe, at $11.8 billion. China accounts for 3.6 percent of UK exports, its sixth biggest export market.