Markets slide with China's manufacturing down to 6-year low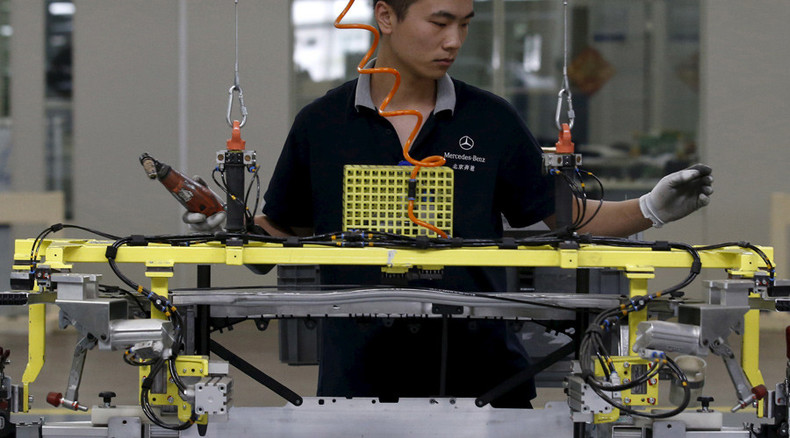 China's manufacturing sector continued its slowdown in August, with its key indicator at the lowest level since November 2009. The news was like throwing gasoline on the fire for the world's financial markets which continued their slide on Tuesday.
The Purchasing Managers' Index (PMI) fell to 47.3 last month, down from 47.8 in July, according to the outlook from Caixin and Markit, published on Tuesday.
The PMI is below the 50 mark which separates expansion from contraction for the economy. Last time the index was above 50 was in February.
Caixin #China General Manufacturing #PMI at 47.3 in Aug, up slightly from the earlier flash reading of 47.1, but down from 47.8 in July

— Markit Economics (@MarkitEconomics) September 1, 2015
"The final Caixin China Manufacturing PMI for August continued to retreat, with sub-indices signaling continued weak demand in the markets for goods and factors of production. Recent volatilities in global financial markets could weigh down on the real economy, and a pessimistic outlook may become self-fulfilling," said He Fan, Chief Economist at Caixin Insight Group.
READ MORE: China's manufacturing index tumbles to 2-year low
Both new orders and new export business declined at sharper rates than in July and contributed to the most marked contraction of output since November 2011.
Lower production requirements contributed to a further decline in purchasing activity in China's manufacturing sector in August, according to the figures. Chinese manufacturing companies reduced their workforce numbers for the twenty-second month in a row in August.
The disappointing data from China added to investor worries about the world's second-largest economy. Stock indices around the world continued their August slide after publication.
The Shanghai Composite closed down 1.23 percent and Hang Seng Index fell 2.22 percent on Tuesday while Japan's Nikkei lost 3.84 percent.
European markets followed Asia into the red with London's FTSE down 3.03 percent, Germany's DAX losing 2.38 percent and France's CAC 40 index 2.66 percent lower, as of 1600 GMT.
Wall Street followed with the Dow Jones Industrials down 469 points, or 2.84 percent. The S&P 500 declined 2.96 percent and the Nasdaq lost 2.94 percent.
READ MORE: China stages biggest currency devaluation in 20 yrs to revive exports
Chinese authorities have so far failed to stabilize the country's cooling economy and have seen almost a 40 percent stock market drop since late June. The government cut interest rates for the fifth time since November and pledged to support the market by buying stocks. In early August, Beijing devalued the yuan trying to revive faltering exports.