China's manufacturing index tumbles to 2-year low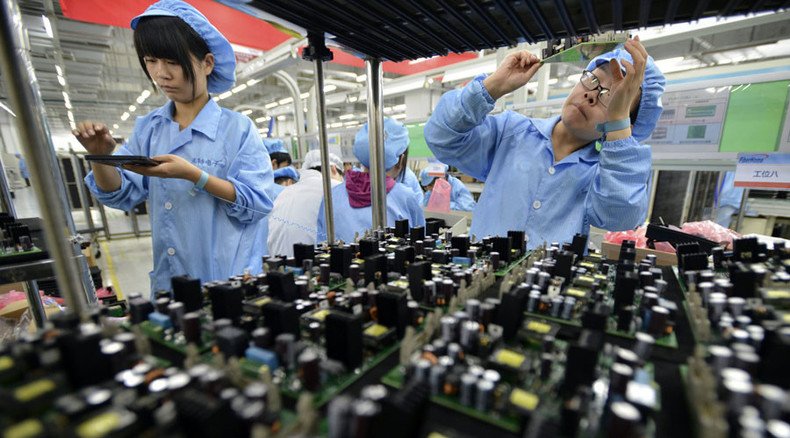 China's key indicator of manufacturing, the Purchasing Managers Index, has sunk to 47.8 in July, hitting the lowest in two years.
The outlook from Caixin and Markit, published Monday, means a deceleration in the manufacturing sector, as it fell below 50. The PMI reading was lower than the Caixin preliminary July prediction of 48.2 and 50 in the official manufacturing PMI released Saturday.
New orders contracted after growing in June, and factory output slumped to 47.1, marking a third consecutive monthly fall and the worst result in three and a half years.
The deteriorating conditions made companies cut staff for the 21st month in a row, while factories had to reduce prices to their lowest in half a year, because of growing competition.
The disappointing real-economy figures were matched by a fall in key Chinese market indices. The Shanghai Composite closed down 1.1 percent and the Shenzhen Composite lost 2.7 percent.
Poor manufacturing data from China, the world's leading consumer of copper, made the metal slide to a six-year low, down 1.7 percent to $5,142 a ton, the lowest figure since July 2009.
"If we continue to get reads like this, then chances are we are going to see more slowing elements of economic growth, which would have downward pressure on metals demand," James Glenn, an analyst with National Australia Bank, told Reuters.
READ MORE: China stocks suffer biggest one-day loss in 8yrs, Shanghai Composite drops 8.5%
With the real economy cooling and a 30-percent stock market slump since the middle of June, it will be a tough task for Beijing to reach its stated aim of 7 percent growth in 2015. The People's Bank of China has made four key rate cuts since November. Beijing has recently made heavy interventions to stabilize its stock markets.
As industrial output, retail sales and investment grew slightly more than predicted last month, there is a chance that the government's efforts may have finally borne fruit. The July data is expected to be released in a fortnight.
You can share this story on social media: