Oil soars 17 percent in biggest one-week rally in years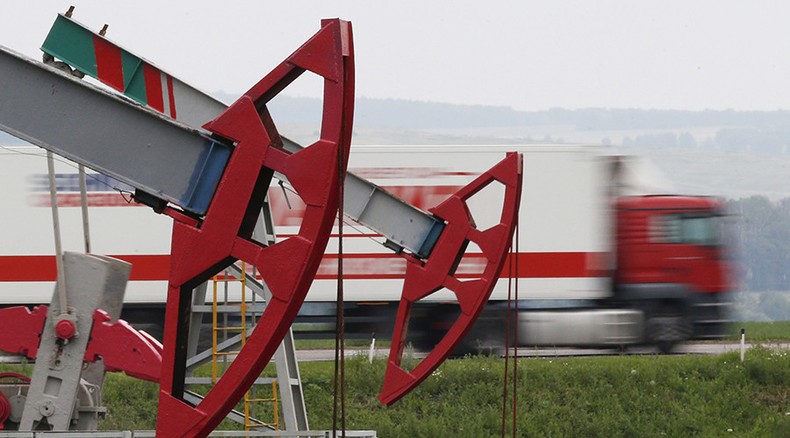 The price of both US crude and Brent oil leaped dramatically during this week's trading. Brent crude gained over 15 percent while US West Texas Intermediate (WTI) soared 17 percent. The sharp rise is attributed to positive dynamics in the world's stock markets and news of shrinking crude supplies.
WTI rose over 4.5 percent to $44.50 per barrel, while Brent crude gained 3.8 percent at $49.36 per barrel, as of 15:50 GMT on Friday.
"A short covering rally, led by crude oil pushed commodities higher across the board. Better than expected U.S. GDP numbers was the main spark, although the force majeure on BP's exports from Nigeria extended the gains," Reuters quotes Australia & New Zealand Banking Group Ltd.

Thursday was the biggest one-day rally for WTI since March 2009. The US crude benchmark gained 10.3 percent.
Analysts are cautious, however, warning that the jump in prices could be a short-lived and the longer-term decline in oil prices could continue.

"We would not underestimate the current bearish momentum and still believe that it is possible to see prices break supports of $38 and $45 for WTI and Brent," Phillip Futures oil analyst Daniel Ang told Business Standard.
"The trend is strong and down. However, do not be wrong-footed by a correction higher," PVM Oil Associates' technical analyst, Robin Bieber, told Reuters.
READ MORE: WTI crude drops below $40 first time since 2009
Oil prices have seen a steep decline of more than 30 percent since July. However, they have shown some signs of recovery since Tuesday, when The People's Bank of China lowered its interest rate, boosting European and US stocks.
READ MORE: Global stocks surge as China cuts interest rates
Thursday's sharp rise was also helped by news that Shell's Nigerian unit had declared a force majeure on crude oil exports, Reuters reports. Two key pipelines in the country were closed due to a leak and theft.