Did China just start currency war?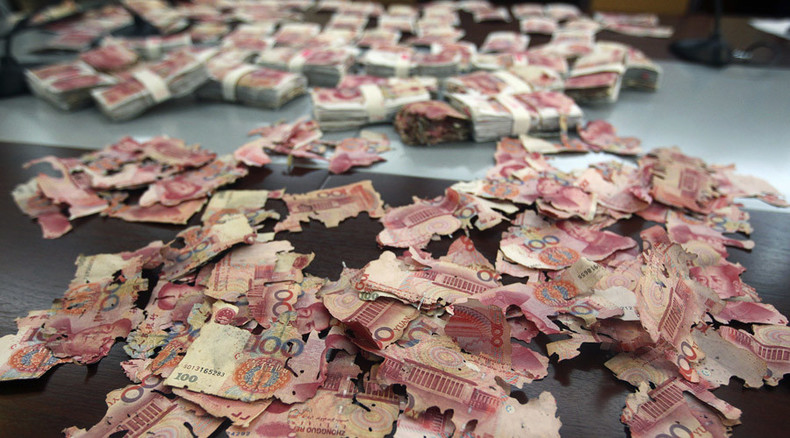 Beijing's depreciation of the yuan in mid-August has triggered a wave of copycat moves from other countries and falling values of currencies. Is this a new currency clash, or is each case specific?
What happened in China?
In three consecutive days last week, the People's Bank of China devalued the national currency, with a 4.4 percent overall depreciation. The step was intended to revive exports, but caused a domino effect leading to panic and fluctuations in equity markets around the globe.
READ MORE: World markets bearish on grim China data
As a result, several countries followed China's lead and devalued national currencies to keep pace with Beijing and support their exports; others are victims of falling commodity prices, while smaller countries are affected by their bigger neighbors.
Kazakh tenge
The worst case is the Kazakh tenge that saw a 23 percent loss on Thursday after President Nursultan Nazarbayev decided to allow a freely floating exchange rate. The government of Central Asia's biggest crude exporter is trying to manage the falling crude prices, and the economic weakness of its top trading partners - China and Russia.
Vietnamese dong
Hanoi devalued the dong for the third time this year by 1 percent on Wednesday to 21,890 dong a dollar, which is another mark that the Asian exchange rates are now under extreme pressure.
"The dong will have enough room to fluctuate more flexibly to cope with negative impacts from international and domestic markets, not only from now until the rest of the year but also in the early months of 2016," said a statement from the central bank.
Malaysian ringgit
The currency dropped to a 17-year low on Thursday and foreign exchange reserves sank below the $100 billion point for the first time in five years.
Turkish lira
The Turkish currency is one of the world's worst-performers since the Chinese devaluation. The Turkish lira has lost more than five percent against the dollar after Beijing's move, almost nine percent in a month and more than 25 percent in a year.
Turkey's ruling Justice and Development Party (AKP) won elections on June 7 but for the first time since 2002, lost the parliamentary majority, and will not be able to form a government alone. Leading parties in Turkey have not yet been able to agree on forming a coalition, which weakens the lira.
Saudi Arabia's riyal
Saudi Arabia has already spent $65 billion from its reserves since the oil price decline began, down from a maximum $737 billion in August 2014. However, the remaining $672 billion is still enough to keep the riyal stable. At the same time, according to Bloomberg, the forward contracts used by traders to bet on or hedge against future price moves – are at the lowest level since 2003, which implies about a one percent fall in the national currency over the next year.
Who else?
Among the other potential victims of the current market situation are Kyrgyzstan's som, Tajikistan's somoni and Turkmenistan's manat. All of these Asian former-Soviet countries have close economic relations with Russia, China and Kazakhstan which makes it highly probable they will be damaged as well.
Another country from the Russia-led Eurasian Economic Union, Armenia is also hit by the ruble's depreciation. Armenia's dram has lost 15 percent in the past 12 months and it's not the end.
Belarus, one Russia's closest allies, has also seen its national currency plummet. The Belarusian ruble lost some 27 percent in a year and it may still not have reached rock bottom.