Russia to issue 30mn national payment cards in 2016 – CBR head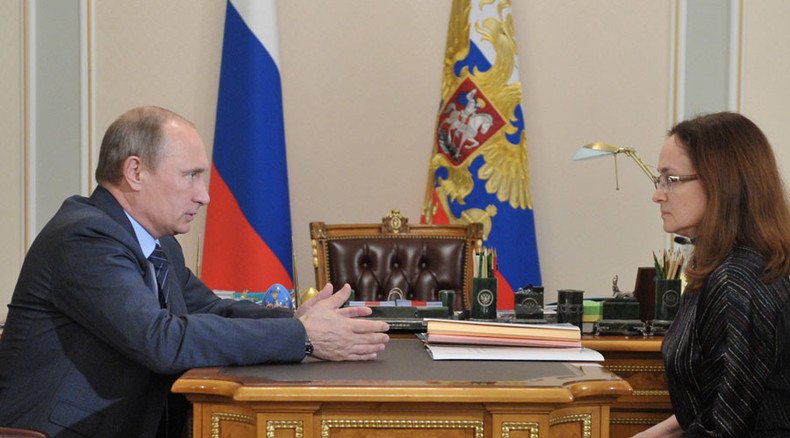 Russia is ready for the mass issue of national payment cards next year, as it seeks to detach from the Western-dominated financial system and distance itself from geopolitical risks, said the head of the Central Bank at a meeting with the president.
Twenty banks have already confirmed their attendance in a pilot issuance planned for December, said Elvira Nabiullina Monday at the meeting with Vladimir Putin to report the results of the Russian banking sector in the first half 2015.
The Mir payment system, launched in 2014 and branded in 2015, will have to conquer the 230 million-card Russian market.
READ MORE: Russia should move to the national payment card this year - Putin

"This is a card that works as a national payment card, Mir, in Russia, but at the same time it can work abroad as a MasterCard, American Express etc. – so that people will feel comfortable and not worry if they want to buy something abroad or to travel somewhere," Nabiullina said.
The first step was made when an operational and clearing center was set up. Domestic operations made using international payment systems are now processed in this center, she added.
The Russian National Payment Card System (NPCS) announced the issuance of co-badging cards with JCB of Japan in July. The card will work as Nabiullina described – as a Mir card in Russia and JCB abroad.
Another stepping stone to becoming more economically independent – a national rating agency – was also discussed at the meeting.
Putin backed the agency, launched in July by the CBR board of directors.
"I remember our discussion with the European Commission's former executives, how they resented the actions of our American partners, saying that the assessments from international (read as American) rating agencies, are not objective," said Putin.
READ MORE: Russia's rating agency to start by year end – Central Bank
Nabiullina said the project would be market-regulated, without the Central Bank's financial participation. The agency's initial capital would be at about $52 million. Each participant's share will be no more than 5 percent so that no kingpin can dominate its policy. The agency is expected to make its first assessments in the middle of the next year, she added.
You can share this story on social media: