Russia should move to the national payment card this year - Putin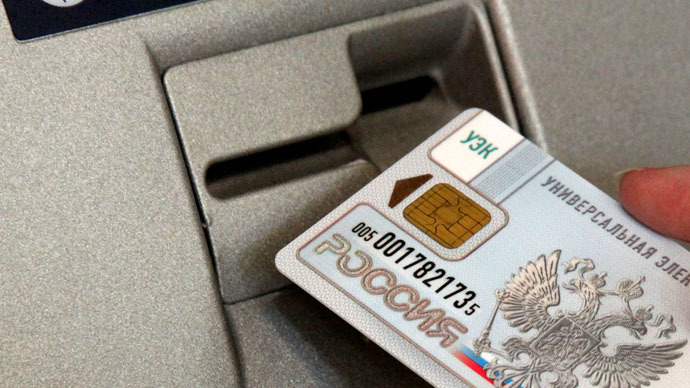 Russia should switch to the national payment card by the end of 2015, said President Putin, adding that the country needs to change the situation where more than 90 percent of Russians use foreign payment cards, such as Visa or MasterCard.
READ MORE: BRICS/SCO summits in Russian city of Ufa LIVE UPDATES
"We need to launch our own 'plastic' [national payment cards] this year," he said at the Q&A session with journalists on the final day of BRICS/SCO summits in Ufa,"[We] need to do it so that it [a payment card] will be available for our citizens. We need to develop it not only on the territory of Russian Federation, but also abroad."
At least 97 percent of clients in Russia have MasterCard and Visa, said Putin. "Is it a normal situation? No!" he added.
READ MORE: Domestic MasterCard: 5 Russian banks begin new National Payment System
According to Putin, Moscow "allowed its partners to do it, thinking that economy is beyond politics."
"It turned out that it is not the case," he said, adding that the economy "is used as an instrument of political struggle."
READ MORE: Domestic payment cards to have 50% of Russian market by 2018
That's why Russia has to make decisions and that doesn't mean Russia is going "to build a wall" around its borders, he said.
"We will use all instruments of cooperation with all countries – with the US, EU and Asian countries," he said, adding that Moscow will develop relations "first of all, with those who want to cooperate with us."
"BRICS countries want this [cooperation], these are powerful countries with prospects of strategic development, these are future leaders of the world and of the global economy."
READ MORE: 1st national payment card to be launched in Dec – Russian Central Bank
In May Central Bank Deputy Chairman Olga Skorobogatova said Russia's national payment card will come into operation by the end of 2015.
In March 2014 Visa and MasterCard suspended their service to a number of Russian banks (SMP Bank, InvestCapitalBank, Rossiya and Sobinbank) as part of Western sanctions over the crisis in Ukraine. After that, Russia established the National System of Payment Cards under the control of the Central Bank of Russia.
You can share this story on social media: