Ruble hits 6-month low against major currencies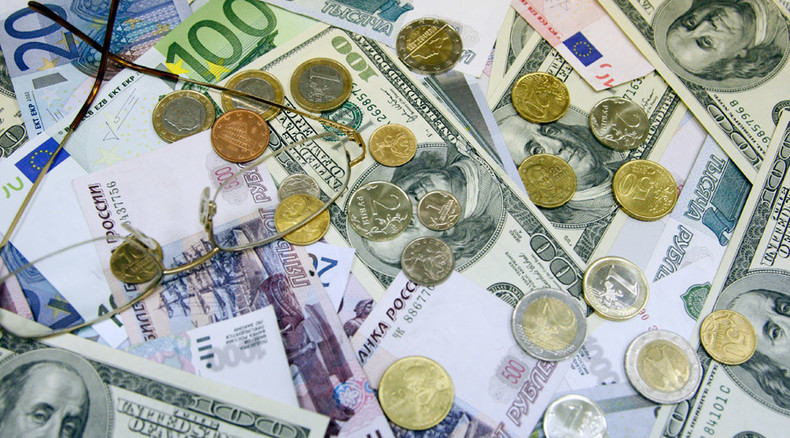 The Russian ruble plunged to a six-month low, hitting 64 against the US dollar and 70 against the euro during Thursday's trade on the Moscow Exchange.
Low crude prices are said to be the key driver of the ruble dive.
READ MORE: Ruble extends losses, as weak oil & softening China disappoint

The Russian currency continued to follow sliding oil prices as Brent futures for September on Thursday dropped by 54 percent to $49.32 a barrel at 15:30 MSK, which is about half its five-year average price. West Texas Intermediate (WTI) was down 1.06 percent at $44.67 a barrel.
Some analysts expect the ruble's slide to continue.
The ruble can fall to 65 against the US dollar in the coming days, Globex Bank trader Andrey Bohun told RBC.
"Oil dynamics forecast remains disappointing, so there is a possibility that we can soon see a new jump of the US dollar to 63-68 highs against the ruble," Anastasia Sosnova, an analyst from Bank Russian Capital, said.
READ MORE: Russian ruble seen as world's best performing currency, hits 2015 high
The ruble, which had been the world's best-performing currency at the beginning of 2015, has erased its gains and weakened more than 20 percent against the dollar since May. It fell 10 percent in July after the Central Bank of Russia (CBR) cut the key rate to 11 percent on July 31.
The CBR made its fifth consecutive cut of the key rate, choosing to support economic growth instead of stabilization of the ruble, which has been experiencing strong fluctuations in recent weeks.