UK raises $3.3 billion in 1st sale of Royal Bank of Scotland shares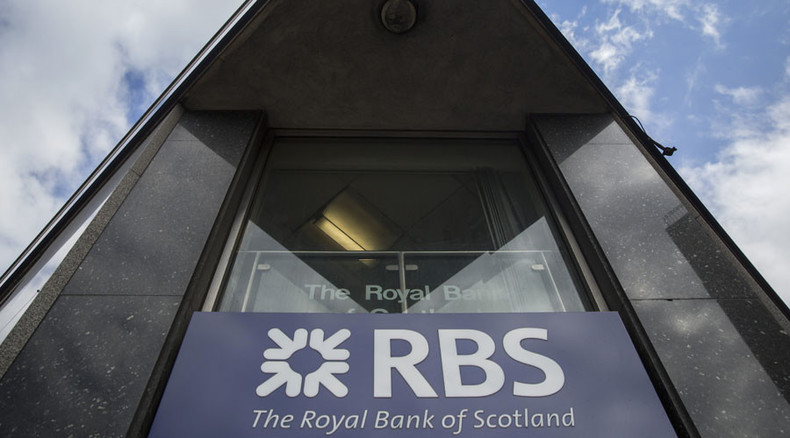 The UK government sold 5.4 percent of its Royal Bank of Scotland (RBS) shares on Tuesday, kick starting the country's biggest privatization process. The £2.1 ($3.3) billion raised will be used to settle the national debt.
"This is an important first step in returning the bank to private ownership, which is the right thing to do for the taxpayer and for British businesses: it will promote financial stability, lead to a more competitive banking sector, and support the interests of the wider economy,"said Chancellor George Osborne.
However, HM Treasury sold the stake at a loss: 330 pence per share, 33 percent below the 502p the government bailed it out with.
The 170 pence difference represents a loss to the taxpayer of just over £1 billion.
The sale cuts the government's stake in RBS to 73 percent.
"Labour has always supported the eventual return of RBS to the private sector, but taxpayers who bailed out the bank will want their money back and will be suspicious of any fire sale," said Shadow Chancellor Chris Leslie, asking Osborne to justify the price.
When asked why the process wasn't launched earlier, when shares were more expensive, Harriett Baldwin, economic secretary to the Treasury, said the Exchequer was recommended to act by the Bank of England.
"There are going to be people who say we started too early and people who say we shouldn't start at all. But that would disagree with the advice of the governor," the Financial Times quotes Baldwin as saying.
Baldwin added that about 75 percent of the government's stake would be sold over the course of the parliament.
During the 2008 global financial crisis, the British government rescued RBS from a collapse, giving it £45.5 billion in exchange for a controlling stake. At the time, RBS was one of the largest banks in the world, with assets exceeding £2 trillion.However, the bank has been selling assets and cutting jobs to restore profitability.
In the second quarter of 2015, RBS unexpectedly announced a net profit of £293 million pounds. During the last seven years, it had been operating unprofitably.