Greek stock exchange plummets 23% as it reopens after 5-week closure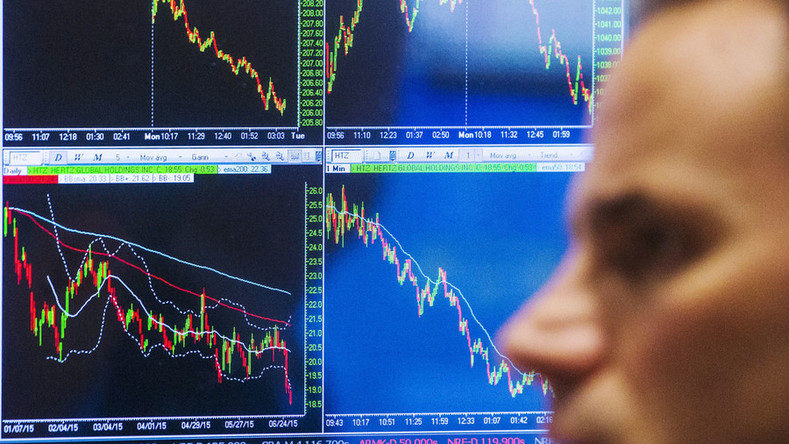 The Greek stock market dived more than 20 percent on Monday immediately after opening, with the Athex Composite down to 615.12. Piraeus Bank and the National Bank of Greece both plunged 30 percent, the daily volatility limit.
Banks account for about one-fifth of the main Athens index.
The 22% fall on the Athens Stock Exchange is the largest % fall even it has had #Greece

— Shaun Richards (@notayesmansecon) August 3, 2015
However, some limitations for market trading were kept in place. Greek traders are able to buy stocks, bonds and other financial instruments only through new acquisitions, such as remittances from abroad or contributions from customers, as well as proceeds from the sale of shares or withdrawal from the investment accounts in brokerage companies in Greece, Greece's Finance Ministry said Monday. This comes along with the continuation of the restrictions on capital movement. Restrictions are not applied to foreign investors operating on the Greek market before the trading suspension in June, the ministry added.
"The situation in Greek equity markets will have to get a lot worse before it gets better," Luca Paolini, Pictet Asset Management's chief strategist in London, told Bloomberg News. "There are still critical risks to be resolved."
The resumption of trading follows the agreement with the country's creditors to open talks on an €86 billion third austerity bailout program.
But last week Greece's biggest creditor, the International Monetary Fund, threatened to scupper the deal, saying it would not be able to reach a "staff level agreement" on the new bailout if Athens does not agree to a "comprehensive set of reforms" and the creditors don't agree to debt relief.
READ MORE: Greece closes banks, imposes capital controls
The Greek market closed in June after a record run on banks posed a risk of a banking collapse. Prime Minister Alexis Tsipras then ordered bank closures and capital controls with cash withdrawals limited to €60 a day. The banks' three-week shutdown has cost the economy €3 billion (US$3.3 billion).
Greek bank run: Deposit withdrawals hit €3 billion in four days - media
The ECB's refusal to expand the assistance was another key reason Greek banks went on holiday on June 29. The ECB has now extended its emergency liquidity assistance (ELA) by €900 million over the past two weeks, and has kept it at that level since the multibillion euro bailout plan was hammered out by the Greek government and its creditors.