Gold to hit 6yr low by year end – Bloomberg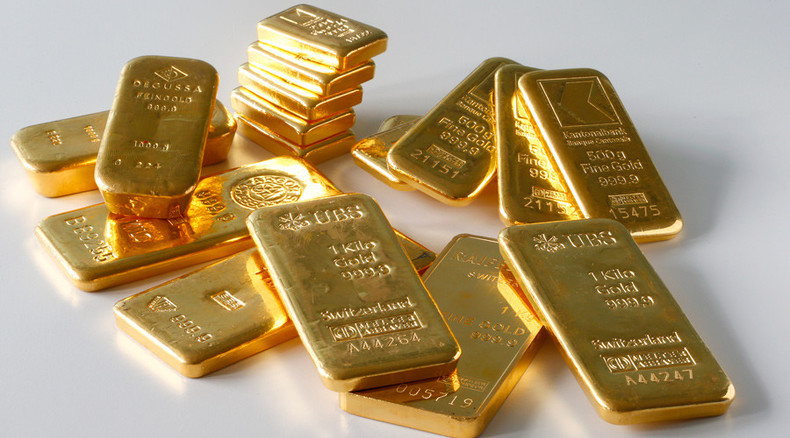 Gold is going to get cheaper and hit $984 an ounce by the end of 2015, according to a Bloomberg survey. This would be the lowest price for the precious metal since 2009.
"Speculators are shorting the metal for the first time since US government data began in 2006, and holders of exchange-traded products are selling at the fastest pace in two years", says a Bloomberg survey of 16 analysts and traders.
It also says the bullion market is sentiment-dominated, as only some 60 percent of mined or recycled gold each year is used in jewelry and industrial applications. The rest is sold in coins and bars, and when interest falls, the prices could also go down.
Robin Bhar, an analyst at Societe Generale in London who was polled, compares bullion with old-fashioned clothes.
"Gold is out of fashion like flared trousers: no one wants it. It's not going to collapse, but we think it is going to be at a lower level in the not-too-distant future," he said.
The reasons for a plunge in the gold price are an impending US rate hike and that China has been buying less gold than predicted in recent years. In July, Beijing disclosed its gold reserves for the first time in six years. China's gold holdings have grown by almost 60 percent since 2009, however, investors had expected more.
READ MORE: Gold touches 5yr low, as China suspected of heavy selling
Goldman Sachs Group's Jeffrey Currie, who had predicted the slide in 2013, has said the price could go below $1,000.
Not everyone expects the era of gold is completely over.
Frank Holmes, a money manager at US Global Investors told Bloomberg that investors still consider bullion as insurance.
"As an investor, you should have gold. There are lots of systemic risks out there," he said.
One of these risks is the Greek crisis, which could still end with Athens leaving the eurozone.
Physical demand for gold is also one of the reasons that the fall would slow down, the survey says. American Eagle gold coins, for instance, have been selling well, and are facing the biggest monthly total since April 2013. Perth Mint Treasurer Nigel Moffatt told Bloomberg Television on Wednesday the demand had increased since the price fell below $1,100 for ounce.
Gold, which has been steadily going down this year, saw a dramatic fall in July, sinking to its lowest level since February 2010, trading at $1,087 an ounce last Monday. This may result in the sharpest monthly decline in two years. As of 11:30am GMT, gold was trading at $1,096.10, showing a slight drop from Tuesday's close.