Gold touches 5yr low, as China suspected of heavy selling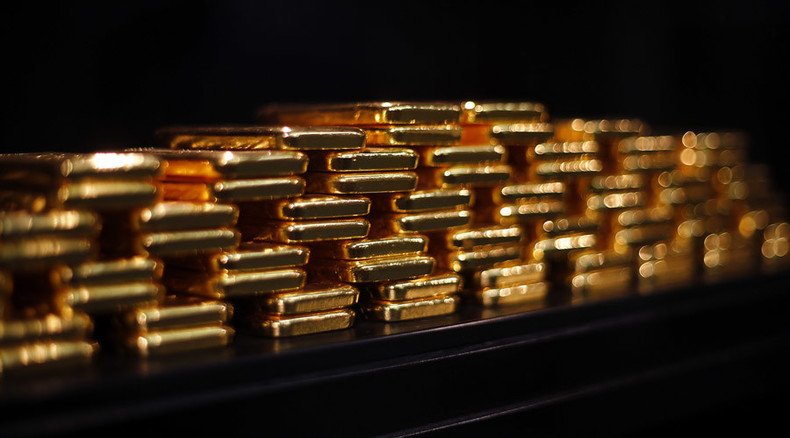 Gold fell 3.8 percent, or $43, to $1,087 an ounce in Asia on Monday in a few seconds. This happened due to a huge dump of five tonnes onto the Chinese markets, that's about a fifth of a normal day's trade, Business Insider reports.
"In Shanghai, close to five tonnes of gold was sold on the Shanghai Gold Exchange in a two-minute window just prior to 9:30am, in a market where the normal volume traded is 25 tonnes in an entire day," ANZ Bank analyst Victor Thianpiriya told Business Insider.
He added that "further downside risks remain," and that "other indicators also suggest the likelihood of an immediate rebound is low."
However, gold recovered after the biggest drop in more than five years and was trading at $1,113.80 per troy ounce at 11am GMT.
The slump in the gold price Monday followed the People's Bank of China revealing on Friday its gold holdings for the first time in six years. Gold holdings have grown 60 percent since 2009 to 1,658 tons, which makes Beijing the fifth largest holder of gold in the world, after the US, Germany, the International Monetary Fund, Italy and France.
READ MORE: China reveals nearly 60% gold reserves' growth in 6yrs, gets into 5 top holders
The reserves were lower than many market players had anticipated, given the fact China is the world's largest producer of gold and is one of the world's largest consumers along with India. Ross Norman, CEO at London-based bullion broker Sharps Pixley, estimated the figure was roughly half the market had expected, says Market Watch.
You can share this story on social media: