China's Shenzhen stock skyrockets, shows biggest growth since 2012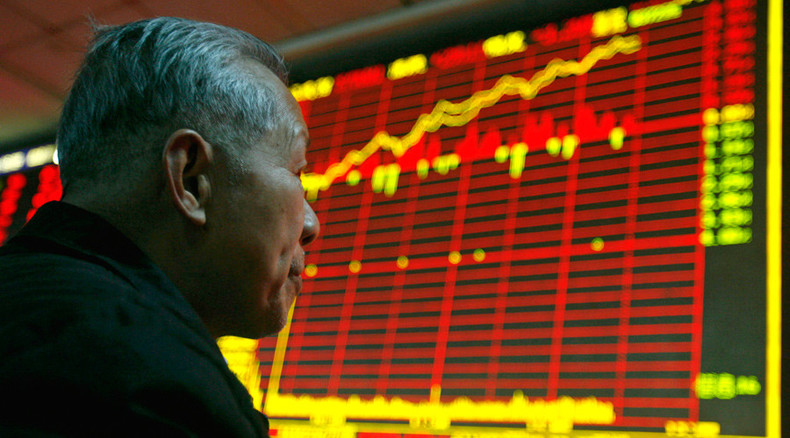 Chinese stocks grew sharply amid speculation that Beijing is increasing its interference to secure growth in the world's second-largest equity market.
The Shenzhen Composite index of "new economy" stocks grew 5 percent on Friday, which is its best result since January 17, 2012. Before the markets closed, it was up as much as 5.6 percent, which would have been the largest growth since 2009.
Shenzhen's ChiNext, an independent market that gives a platform for the needs of enterprises working in independent innovation and other growing venture enterprises, grew almost 6 percent as of 07:00 GMT.
The Shanghai Composite, an index that tracks the daily price changes of shares listed on the Shanghai Stock Exchange, was up 3.51 percent when the market closed Friday.
The growth in the markets, which according to different estimates, have lost up to $4 trillion in capitalization in a month, is linked to the government's interference. According to various data, Beijing injected about $14 billion into the markets last week, to soothe the collapse.
Meanwhile, China Securities Finance Corp., a state-backed agency that provides margin finance and liquidity to the market, has up to $483 billion on tap to support the market, Bloomberg reports, quoting people familiar with the matter.
READ MORE: China's central bank injects $8.2bn to sooth market collapse
Last Wednesday, China Securities Regulatory Commission made an announcement that any shareholder with more than a 5 percent stake in any Shanghai or Shenzhen listed company, including foreign investors, should not reduce the holdings over the next six months.
After the restrictive measures were imposed, the Shanghai Composite grew by 12 percent.