Barclays CEO Antony Jenkins sacked, gets salary till next July & 2015 bonus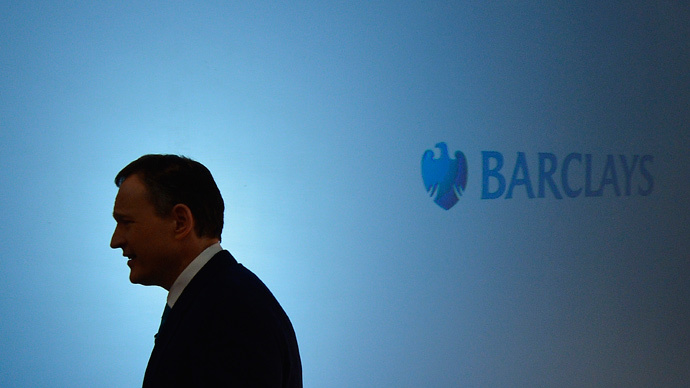 Antony Jenkins, who served as Barclays CEO since summer 2012, has been sacked "with immediate effect" from today. The departure of the chief executive has been put down to a "change of leadership," according to the bank's press release.
Jenkins has been replaced by chairman John McFarlane, who takes the position of executive chairman.
Jenkins' statement reveals the move was a surprise for the top executive himself.
"It is easy to forget just how bad things were three years ago both for our industry and even more so for us," Jenkins points out. "I am very proud of the significant progress we have made since then," he said.
READ MORE: 'Institutionalised theft': Barclays' PFI contracts based on rigged interest rates 'bleeding NHS & schools dry,' say activists
The Barclays Board Remuneration Committee has determined that under his contract, Antony Jenkins is entitled to 12 months' notice from the company and will "continue to receive his current salary (£1,100,000 per annum), role based pay (delivered in Barclays shares) (£950,000 per annum), pension allowance (£363,000 per annum) and other benefits until 7 July 2016."
The Committee adds, "Mr Jenkins will remain eligible to be considered for a pro rated 2015 bonus for time in his role as Group Chief Executive." This will be assessed on the base of his relevant performance in 2015 and the "general discretion of the Committee."
In the statement issued by Barclays, the Board recognizes the contribution made by Antony Jenkins over the last three years "in incredibly difficult circumstances for the Group."
READ MORE: Largest British banks launch FIFA investigation
"The situation he inherited would have challenged anyone facing the same issues," Barclay's statement acknowledged.
The new executive chairman McFarlane wanted to extend his thanks for "everything that Antony has done for us."
"He can be proud of his heritage, especially his excellent work on culture and values that we will continue. I wish him well," McFarlane said, according to Barcalys' press release.
McFarlane also gave a general outline of the Group's plans.
"We need to be much more focused on what is attractive, what we are good at, and where we are good at it," he said.
"We also need to become more externally focused and deal with the internal bureaucracy by becoming leaner and more agile. I have experienced good results in dealing with these matters elsewhere," McFarlane added.
READ MORE: Five banks to pay record $5.7bn fines over key rates manipulation – US regulator
As executive chairman, John McFarlane's compensation will be an £800,000 annual fee "inclusive of the annual fee he would receive as a non-executive director" and £100,000 of the "annual fee as chairman is delivered as Barclays' shares."
Although the Committee had proposed that McFarlane's annual fee should be increased "in view of his additional responsibilities," the executive said that he "does not wish" his remuneration to be revised and that his current fee arrangement will therefore continue while he serves as executive chairman.