AIIB and BRICS bank not rivals but complementary – economy minister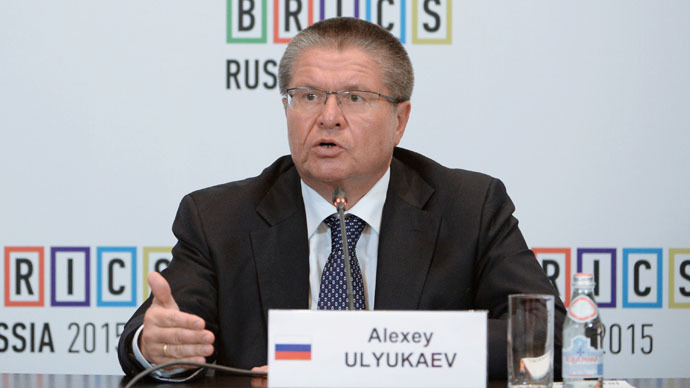 The China-led Asian Infrastructure Investment Bank (AIIB) and BRICS New Development Bank (NDB) can coexist, Russian Minister of Economic Development Aleksey Ulyukayev told RT ahead of the key BRICS/SCO summits in Russia.
"I think there is enough room for everybody. Our economy is so underinvested…So, the Asian bank, BRICS and other banks will have a field for investment," said Ulyukayev after the NDB governors meeting that took place for the first time in Moscow on Tuesday.
READ MORE: BRICS bank, Greece & Ukraine headline BRICS/SCO summits – presidential aide
The meeting is ahead of the 7th BRICS summit on July 8 -10 in Ufa, Russia. The bloc intends to launch a $100 billion NDB bank and a currency pool worth the same. The bank is intended to complement the World Bank and fund infrastructure projects within the group, while the pool would protect BRICS from currency volatility.
READ MORE: BRICS summit in Russia to launch New Development Bank & currency pool - Putin
The AIIB was launched in Octoober 2014 and has 57 countries as its founding members from five continents, Asia, Oceania, Europe, Latin America and Africa. The bank will finance infrastructure projects in the Asia-Pacific Region, such as roads, railways, and airports. China has 20.06 percent of the voting share and India 7.5 percent. Russia has the thirdlargest stake with 5.92 percent. The initial capital of AIIB will be $50 billion and is planned to be increased to $100 billion. It will be headquartered in Beijing.The IMF Chief Christine Lagarde has said the IMF and the World Bank are ready to work with AIIB, even though it is sometimes referred to as a rival to the Western financial institutions.
READ MORE: Ufa ready to host BRICS and SCO summits - republic's head to RT
Ulyukayev also addressed the question of whether Asian capital could replace lost investments from the West. Western sanctions have also made impact on Asian countries, as they have become more conservative, he said.
Asian investment would partly substitute the money that had come from Europe and the US, but Russia's main goal is a "transformation of internal domestic savings into domestic investment," Ulyukayev added.
As for trade cooperation between Russia and other BRICS countries has been performing well, but the barriers to trade have yet to improve, he added. Customs offices have to cooperate closer, and the member states have to introduce electronic documentation in order to facilitate business, according to the minister.
The summits in Russia will see the members of BRICS, Shanghai Cooperation Organization (SCO) and the Eurasian Economic Union (EEU) discuss business that is underway, free trade zones between the groups and joint investment projects. Among other topics on the agenda are the Ukrainian and Greece crises, and the possible lifting of Iranian sanctions, as Tehran is expected to join the SCO as soon as they are cancelled.
Russian President Vladimir Putin plans on having 11 bilateral meetings and a trilateral meeting with China and Mongolia as part of regional cooperation.