​Russia becomes AIIB's third largest shareholder after China and India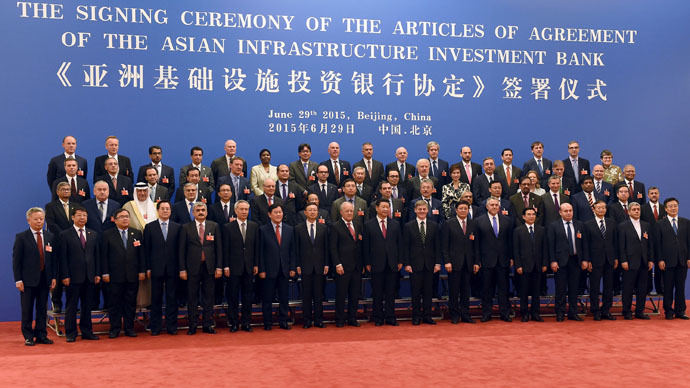 Russia has become the third largest player in the China-led Asian infrastructure and Investment Bank (AIIB), having received a 5.92 percent voting share, while China and India gained 20.06 percent and 7.5 percent respectively.
The signing ceremony of a basic document on the establishment of the Asian Infrastructure Investments Bank (AIIB) took place in Beijing on Monday. The ceremony was attended by 300 delegates from 57 founding countries of the new bank. The delegates determined the total share capital, each member's voting share of capital, the governance structure, decision-making mechanism, and operational business procedures.
China does not seek veto authority in the bank, said Deputy Minister of Finance Yaobin Shi, quoted by Xinhua News Agency. China's Minister of Finance Luo Jiwei, in turn, said the bank will operate according to the highest standards and follow international rules. China has received a 30.34 percent stake in the bank's shares; India and Russia have 8.52 and 7.5 percent respectively.
READ MORE: Washington 'shifts tone' towards China-led infrastructure bank
Russia's share in AIIB's authorized capital will be $6.5 billion, said Russian Deputy Finance Minister Sergei Storchak after the signing ceremony, TASS reports.
"The share of Russia's participation in AIIB will amount to $ 1.3 billion in monetary terms and $6.5 billion in the bank's full authorized capital. That is, the paid capital amounts to 20 percent. In this case, Russia will possess 65,362 shares of the bank," said Storchak adding that the bank's board of directors will be joined by a Russian representative.
"The Russian Federation will participate in the management of the bank; we have received a real opportunity to appoint a director from the Russian side as our share in the bank's capital is more than 6 percent," he said. The board of directors will approve the projects and the strategy of the bank.
READ MORE: China launches new World Bank rival
AIIB was established at China's initiative in October 2014. The agreement was signed by 21 countries. The number of countries that applied for participation in the bank as founding members had already reached 57 by April 2015. The bank's initial subscribed capital of $50 billion is planned to be increased to $100 billion. The authorized capital is divided into 1,000,000 shares with a value of $100,000 each.
AIIB will provide funds for the development of road systems, telecommunications and other infrastructure projects in the poorer regions of Asia. At the initial stage, AIIB will focus on creating a 'New Silk Road' – a system of trade routes linking the markets of Europe and Asia.
Experts consider AIIB a potential rival to the US-based IMF and World Bank. However, the head of the IMF, Christine Lagarde, said the IMF and the World Bank are ready to work with AIIB.
You can share this story on social media: