Default countdown? European banks lose €50bn as Greek debt deadline nears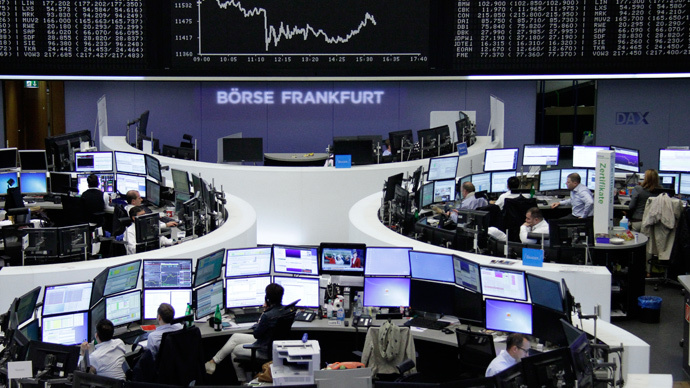 The market value of European banks has shrunk by more than €50 billion after Greece shut down its banks until July, 6, the day after the referendum on the bailout deal is held.
Greek debt crisis LIVE UPDATES
The Stoxx 600 Banks Index fell by 4.4 percent, the biggest daily decline since November 2011, Bloomberg reports. Among the biggest losers is Portugues Banco Comercial down 9.1 percent, and Italy's Banca Monte dei Paschi di Siena which slumped 7.2 percent. Spain's Banco Popular Espanol has lost 6.5 percent and Banco de Sabadell was down 5.4 percent.
"In the short term we should see a very negative mood on markets…Sovereign bonds, banks of peripheral countries, will be the most affected by uncertainty," the CEO of Milan-based brokerage Marzotto SIM Jacopo Ceccatelli told Bloomberg.
On Monday global stocks suffered their sharpest decline in about six months.
DAX of Germany has suffered the most, falling 4.17 percent this morning. In Asia, where trading finished by the time of publication Shanghai Composite showed the worst result, closing at 3.34 percent lower.
READ MORE: Greece closes banks, imposes capital controls
The Euro is also losing momentum against the US dollar, having gone down 0.74 percent on Monday as of 10:42 am MSK. By 06:59 GMT the euro was trading at $1.1089, still down 0.7 percent on the day but well clear of a four-week low at $1.0953 touched in Asian trading.
Morning Note: 1. Stoxx50 futures plunge. 2. EURUSD dives. 3. Spanish + Italian yields surge pic.twitter.com/re6tpzXGAJ

— Jonathan Ferro (@FerroTV) June 29, 2015
In Greece, the banks will remain closed for a week and cash withdrawals will be limited at €60 a day, as the government said it would hold a referendum this Sunday to let the people decide what to do with Athens' multibillion-euro debt.
IMF chief Christine Lagarde told the BBC on Saturday that the planned referendum on the terms of any new bailout plan will be invalid, as on Tuesday the current program expires.
The Greeks would be voting on proposals that no longer exist, she said.
The ECB refused to expand its emergency liquidity assistance (ELA). As of June 23, the ELA program had lent Greek banks about €89 billion.
The EU Tax Commissioner Pierre Moscovici hasn't lost hope of reaching an eleventh hour deal.
To those who wonder what's next, 1. #Greece should stay in euro;2.The door is still open for negotiations on latest @EU_Commission proposals

— Pierre Moscovici (@pierremoscovici) June 28, 2015
London-based market strategist Michael Ingram at BGC Partners told Bloomberg that a Greek default is almost inevitable.
"Without a complete capitulation from the troika, Greece will default on the IMF tomorrow and emergency liquidity assistance should be withdrawn on Wednesday. I can't see anyone stepping in before Wednesday ahead of an ELA withdrawal," he said.
Greece is due to repay €1.6 billion to the IMF by June 30. If it is unable to do so, the country could technically default.
You can share this story on social media: