​Russia can't give another gas discount to Kiev; price should match Poland's – Putin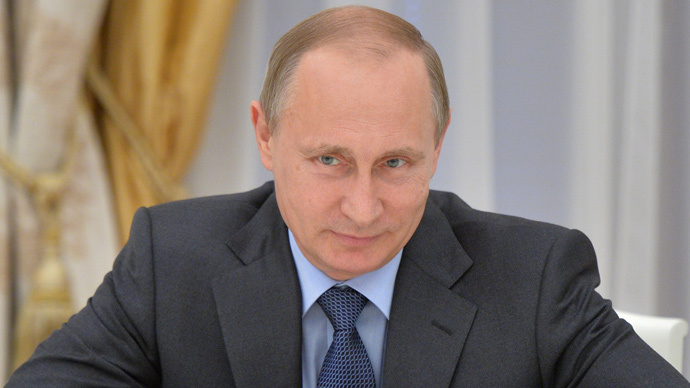 Russia is to give a further discount on gas supplies to Ukraine, as the oil prices remain low, said President Vladimir Putin. The price Kiev pays for Russian gas should be the same as Poland at above $400 per 1,000 cubic meters, he added.
"Price is the key issue here. It is clear that with such a serious fall in crude prices, the end prices for gas have been affected, too. We cannot provide a discount to the same extent as it was before. But in any case, the final price for Ukrainian consumers should not be higher, it should be at the level of neighboring countries such as Poland," said Putin Wednesday at a government meeting.
READ MORE: McCain: US will supply gas to Ukraine, Europe in 2 yrs
Gazprom gave Poland a 15 percent gas discount in 2012. Prior to that the price for Poland was one of the highest in Europe. In 2013, Poland was buying gas at an average of $423.
Oil prices have fallen about 50 percent from their peak of $115 a barrel last summer. Russia's budget relies heavily on oil revenue which means lower crude prices could potentially result in a budget deficit.
The next trilateral meeting of Russia, the EU and Ukraine on gas is scheduled for the end of June, said Novak at the meeting.
According to Russia, Ukraine needs 19-20 billion cubic meters of gas through till mid-October.
"In our joint vision with the European Commission, Ukraine needs to download 19-20 billion cubic meters of gas into underground gas storage facilities by October 15. Currently, this figure is 11.5 billion cubic meters," said Novak.
Kiev had confirmed it plans to pump the volume Novak mentioned. However, earlier this week the head of the Ukrainian Energy Ministry Vladimir Demchishin said Kiev considers 16 billion cubic meters, the same volume as last year, sufficient for the heating season. To pump more, Kiev would require assistance from the European Commission in drawing at least $1 billion, said Demchishin.
Kiev gas discounts
On April 1, 2015 Russian and Ukrainian state gas companies, Gazprom and Naftogaz signed an agreement on gas supplies to Ukraine for the second quarter of 2015. The agreement became known as the 'summer package', replacing a similar 'winter package' signed at the end of October, 2014.
Russian gas is delivered on prepayment terms. Naftogaz pays Gazprom $247.18 per one thousand cubic meters of gas which includes a $100 discount.
Naftogaz's debt to Gazprom is $2.471 billion including penalties, Novak said in April.