​Negotiations on Greek bailout to continue this week, no deal so far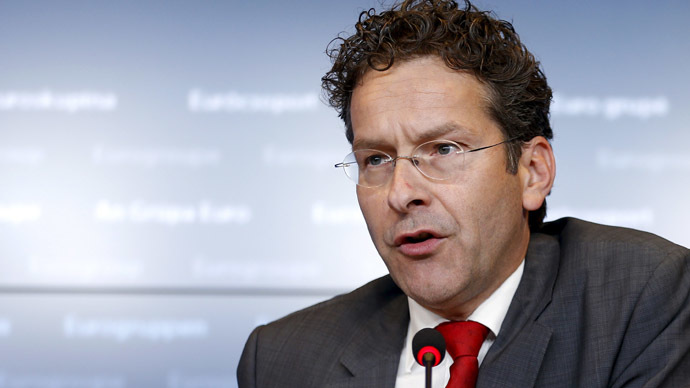 The Eurogroup and Greece have not reached an agreement on unblocking €7.2 billion in financial aid, the talks will continue all week, according to Dutch finance minister and Eurogroup President Jeroen Dijsselbloem.
New reform proposals by Athens are quite deep and comprehensive, but they require further analysis, Dijsselbloem said Monday, adding that the parties aim to shake hands this week.
READ MORE: Greece likely to exit euro and EU without deal with creditors – central bank
Greece and its lenders still have a lot of work before striking a deal, said EU Tax Commissioner Pierre Moscovici. He didn't rule out another Eurogroup meeting this week.
Greek crisis
Athens and the Troika of international lenders – the IMF, the ECB and European Commission have been negotiating a deal to unlock more aid for five months.
Fears that Greece is on the verge of leaving the eurozone escalated after the country delayed a €300 million payment to the IMF due June 5, saying it would pile together four June installments totaling €1.6 billion and pay them at the end of the month.
Failure to reach an agreement would lead to Greece leaving the eurozone, and, most likely, the EU, warned the Bank of Greece last week.
READ MORE: Russia, Greece sign €2bn deal on Turkish Stream gas pipeline
During the weekend Greeks withdrew about €400 million through ATMs, making the total withdrawal of funds from Friday to Sunday at €2 billion. On Monday, Greek banks have imposed an unofficial limit on the amount of daily cash withdrawal at €3000, said The Financial Times, citing sources.
Austerity measures have resulted in unemployment rising from 12 to 27 percent in three years while GDP has fallen by 26 percent since 2008, according to Greek Prime Minister Alexis Tsipras. He promised to end austerity when his leftist Syriza party came to power.
On Friday, Russian President Vladimir Putin and Tsipras signed a €2 billion deal to create a joint enterprise to build the Turkish Stream pipeline across Greece at the 2015 St. Petersburg Economic Forum.
The money is intended to help Greece to settle its debts, said Putin.