Moscow wants ruble settlements with Beijing on Russian high-speed railway – RZD official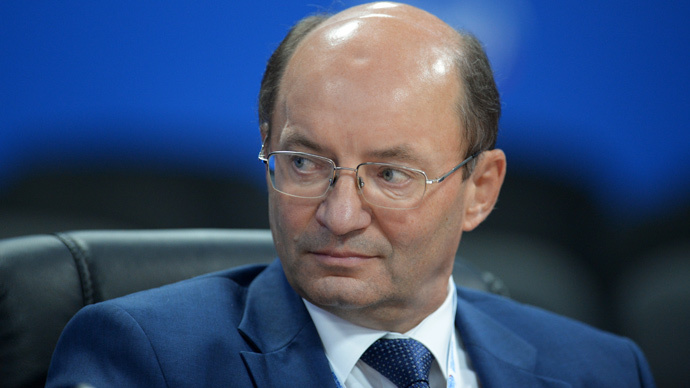 Payments with Chinese partners involved in the Moscow-Kazan high-speed railway would be better in Russian rubles, according to the Vice President of Russian Railways (RZD) Aleksandr Misharin. The cost of the railway link is estimated at $21.4 billion.
"There's a possibility of providing yuan loans in ruble equivalent, and I think it's very important to discuss the provision of ruble-denominated loans," Misharin told TASS on Thursday during the St. Petersburg International Economic Forum (SPIEF). According to him the issue largely depends on the result talks between the Russian Central Bank and the Bank of China.
"We have everything at present to turn to ruble settlements as the project and the revenues are in rubles," Misharin said.
He had talked about possible settlements in Russian rubles, US dollars and Turkish Lira.
READ MORE: China may invest $5.2bn in Russia's first high speed railway
The total cost of the 770-kilometer Moscow-Kazan link is estimated at $21.4 billion. It is expected to reduce the travel time between Moscow and Kazan, the capital of the Republic of Tatarstan, from 14 hours to just three-and-a-half hours. The train will be able to reach speeds of 400 kph.
The railway is expected to become part of the planned Beijing-Moscow high-speed transport corridor and of the 'Silk Road' project which is expected to link China with the markets of Europe and the Middle East.
Beijing has already expressed its interest in funding the ambitious project, saying it will invest a total of $5.6 billion (300 billion rubles) in the project. $4.6 billion at current exchange rates (250 billion rubles) will come in the form of 20-year loans from Chinese banks, and the other $970 million (52 billion rubles) would come as an equity payment from the Chinese company in charge of the project.
READ MORE: Chinese company wins $390mn contract to develop Russian high-speed railway
Last month China Railway Group won a $390 million contract to develop the Moscow-Kazan high-speed railway. A consortium led by a China Railway subsidiary together with two Russian companies will jointly work on the project in 2015-2016.