​Saudi Arabia opens $590bn stock market to foreigners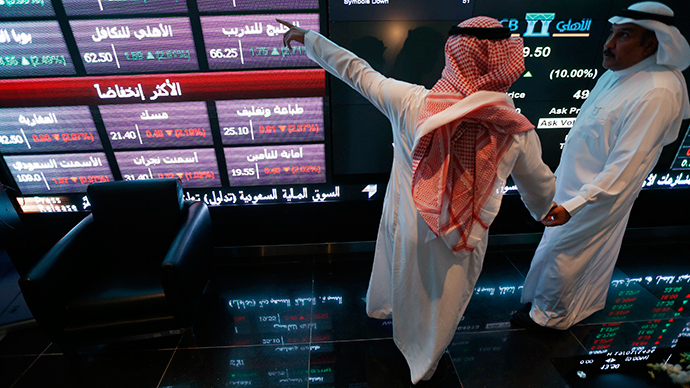 Starting Monday Saudi Arabia is giving foreign investment institutions access to one of the world's most-restricted stock markets in an effort to diversify its capital base, in a country which gets 90 percent of its revenue from oil.
Until Monday overseas investors could only buy stocks on the Saudi market through so-called participatory notes and exchange-traded funds.
"The opening of the Saudi stock market to foreign investors today [Monday – Ed.] will give more flexibility to those seeking access to this vigorous economy. With daily turnover of $2 billion the Saudi market is the most liquid in the Middle East and North Africa region. Once the changes are in place, international investors are likely to want access to Saudi businesses generally and particularly to non-cyclical sectors like healthcare and retail,"Hedi Ben Mlouka, chief investment officer of fund manager Duet's frontier market fund,told The Telegraph.
READ MORE: Islamic banking in Russia may ease effect of sanctions – head of Sberbank
Saudi Arabia's Tadawul is the eleventh largest stock exchange in the world, and the fourth largest based on liquidity among the emerging markets. It actively trades 169 companies from 15 sectors of the economy.
As Saudi Arabia has had some big bills, spending money on the war in Yemen and Syria, it is looking for extra cash, which is one of the key reasons for opening the market. Growth in Saudi Arabia, with an estimated $752 billion GDP, is expected to reach only 2.5 percent in 2015 compared to 3.6 percent last year, according to Bloomberg data.
The world's dominant oil producer could become a net importer by 2030, said Citibank Inc.
Access restricted
The stock market of the wealthiest and most powerful Arab nation and leading OPEC country will only be open to big investors.
Foreigner investment institutions with more than $5 billion in assets under management and more than five years of experience will be admitted to the market. Each investor can hold 5 percent of a company, with a maximum 49 percent in foreign hands.
The reason for such a restriction is to keep out so-called hot money, and attract long-term investors and reduce market volatility. Due to the rollercoaster oil price the market has had the highest volatility in the world this year.
Saudi Arabia plans to bring in up to $50 billion of foreign money in the next 3-5 years, Tariq al-Sudairy, chief executive of Riyadh-based Jadwa Investment told the FT.
The market won't be flooded, as "inward flows typically materialize gradually over a period of a few years," he said.
Companies based in Mecca and Medina will still be inaccessible to foreigners, as these sacred cities are categorically restricted to non-Muslims.
New-York based MSCI, serving about 98 percent of the world's largest money managers, is now assessing the possibility of adding Saudi Arabia to its Emerging Markets Index.
You can share this story on social media: