Holy deal: Vatican signs US tax evasion law to rehabilitate its scandal-marred bank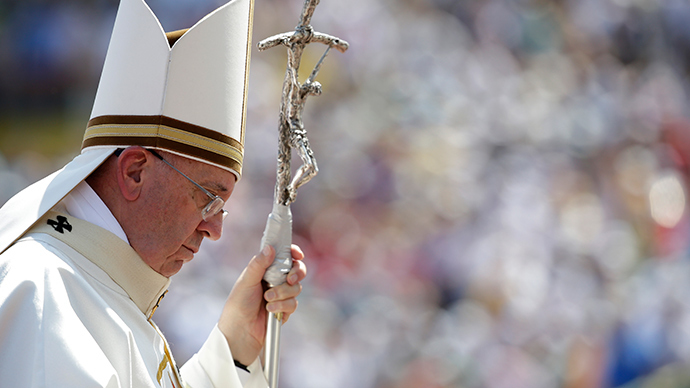 The Vatican has signed its first inter-governmental deal with the US known as the Foreign Account Tax Compliance Act (FATCA), aimed at curbing offshore tax evasion and cleaning up the reputation of its scandal-plagued bank.
Under the new agreement the Holy See has agreed to automatically report information on Vatican Bank accounts held by American citizens. For a long time the bank has been accused by Italian authorities of being an offshore tax haven.
READ MORE: 'Not to share wealth with poor is to steal': Pope slams capitalism as 'new tyranny'
More than 15,000 American are said to have accounts at the Vatican Bank, though the exact number is unknown.
"Signing the present agreement is… a further step in the Holy See's long-term strategy to ensure and promote legality, transparency and ethical behavior in the economic and financial fields," the Vatican's Secretary for the Relations with States at the Secretariat of State Paul Gallagher said in a statement published Wednesday.
The Vatican joined 62 countries which have signed FATCA agreements along with 50 others that have reached "agreements in substance." The FATCA was passed by the US Congress in 2010.
READ MORE: The new American tax dictate FATCA comes into force
The US and the Holy See have signed several agreements in the past, such as exchange of information on financial crimes but those agreements were signed between agencies and not between the two governments. The Vatican recently signed a tax information-sharing agreement with Italy.
Pope Francis has been trying to reform Vatican financial structures, especially the scandal ridden Vatican bank. Last year, he replaced all the cardinals from his predecessor Pope Benedict XVI's appointments. He practically canceled the decree of Benedict to reform the bank, formerly known as the Institute for Religious Works (IOR). His team shut down many of the suspicious accounts held in the bank and asked the Promontory Financial Group to audit the institution and bring it up to international standards.

READ MORE: Two men caught with $4.1tn worth of fake bonds at Vatican Bank
In October 2013, the Vatican Bank for the first time in its 125-year history disclosed its annual financial report to the public. It then showed a total of €4.98 billion in assets and €769 million in equity funds.
Earlier in 2010, Italian police seized €23 million from an IOR account, the money was later unfrozen.