​India & China seal record 24 deals estimated at $10bn
Published time: 15 May, 2015 13:11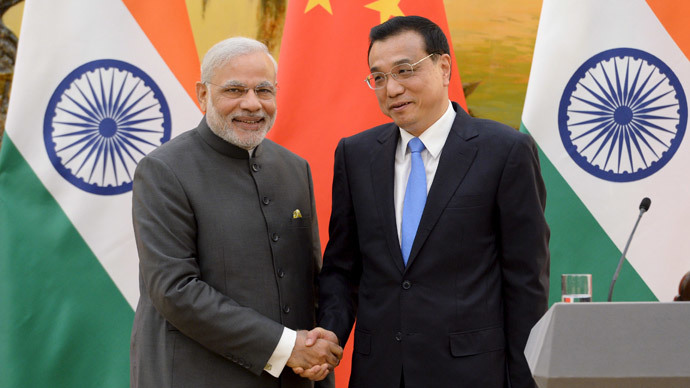 India and China have signed a record 24 bilateral agreements worth $10 billion during Indian Prime Minister Narendra Modi's first visit to China. Both sides are dedicated to establish a "new direction between the two largest Asian countries."
Education, establishment of consulates, space exploration, mineral resources, railway systems and TV were among 24 intergovernmental agreements signed by India and China in Beijing.
Here is the full list of the agreements signed today between #IndiaChinapic.twitter.com/18olUIc6Ga

— Vikas Swarup (@MEAIndia) May 15, 2015
The news was announced after Modi held negotiations with Chinese Premier Li Keqiang on Friday. The meeting took place in Beijing on the second day of the PM's three-day visit to China.
"Today, we have signed over 20 agreements, covering diverse areas of cooperation. This shows the depth and maturity of our relationship and the positive direction of our partnership," said Narendra Modi in a joint press conference after the signing of the deals.
Mr. Modi also said India wanted more investment from China, greater access to its markets and a shared commitment to ensure that their disagreements remain in check.
"We are committed to set a new direction between the two largest Asian countries," he said. "This is one of our most important strategic partnerships."
Where selfies are concerned, there's always scope for one more! PM @narendramodi with Premier Li, Temple of Heaven pic.twitter.com/f5Ubv5QajU

— Vikas Swarup (@MEAIndia) May 15, 2015
China and India are disappointed in the current trade volume compared to their market and national strength. India estimates last year's trade deficit with China at $45 billion, a third of its global trade gap.
Li Keqiang said the two countries had "enough political wisdom to manage and control differences," adding that the countries' common interests were far bigger than the differences.
Modi said that his three-day visit to China would deepen bilateral ties and create a milestone for the relations between developing countries in Asia and around the world.
"21st century belongs to Asia," the PM told CCTV prior to his visit.