Fifth year Apple named most valuable brand, at $145bn
Published time: 14 May, 2015 13:03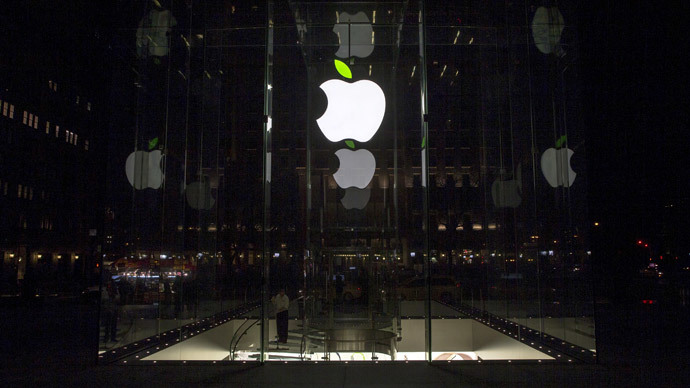 The Apple brand is now worth over $145 billion, topping Forbes' list of the World's Most Valuable Brands for 2015. The value is up 17 percent since last year, and worth twice any other brand. This is the fifth year the company has headed the list.
The brand value has kept pace with company performance. In the fourth quarter of 2014 it reported revenue up 12 percent at $42.1 billion and net profit up 13 percent at $7.5 billion from the previous year. With phone sales up 49 percent in the same period, the company sold 74.8 million smartphones worldwide. This put it ahead of rival Samsung for the first time since 2011.
The Apple brand is worth twice as much as any other brand on the planet by our count: http://t.co/2HpgMAhM5epic.twitter.com/v5PWdDjFhd

— Forbes (@Forbes) May 13, 2015
Apple's reported advertising budget of $1.2 billion less than a third of Samsung's $4 billion. Its brand value is backed by a vast base of loyal users, as well as regular launches of innovative products like Apple Watch. According to Piper Jaffray analysts, the watches might contribute 10 percent to company's 2017 revenue.
Microsoft and Google were ranked as the second and third most valuable brands.
The brand value of Microsoft is up 10 percent since last year at $69.3 billion. The Redmond giant under new CEO Satya Nadella has announced ambitious plans for the Windows 10 operating system coming out this summer, expecting to reach 1 billion users by 2018.
The Google brand value at $65.5 billion is up 16 percent since last year, as company revenue of $66 billion in 2014 was up 19 percent with good momentum in the mobile advertising segment.
The top ten list also includes Coca-Cola ($56.0 billion), IBM ($49.8 billion), McDonald's ($39.5 billion), Samsung ($37.9 billion), Toyota (37.8 billion), General Electric ($37.5 billion) and Facebook ($36.5 billion). Of the top ten, eight brands are US-based; the other two represent Japan and South Korea. 2015 is also the first time Facebook entered the top ten.
This year's biggest gainers in brand value are Facebook (54 percent), Amazon (32 percent) and Disney (26 percent). Adidas (-14 percent) and Danone (-13 percent) showed the biggest drops.
The list includes 100 brands from 15 countries across 20 broad industry categories. Over 50 percent of the list is US-based companies, followed by 9 brands from Germany, and seven each from Japan and France.