Russian ruble falls as Central Bank restarts currency buying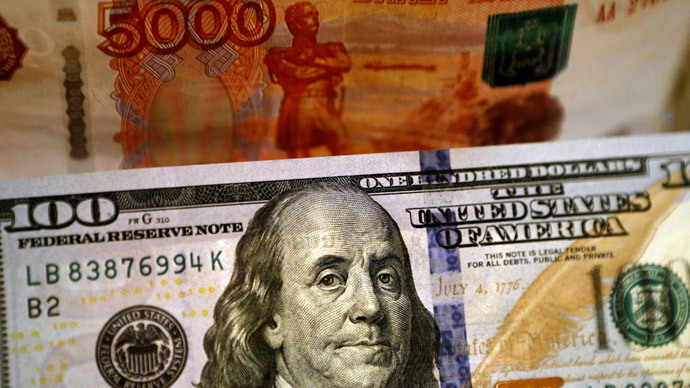 The Russian ruble dropped back to above 50 against the US dollar, as the regulator said it will be buying up to $200 million a day from the domestic currency market.
The Central Bank of Russia (CBR) said it wants to replenish the country's international reserves that have shrunk by a quarter in 12 months to $356 billion.
"This decision considers the normalization of the situation in a domestic currency market and is not aimed at maintaining a particular exchange rate," CBR said in a statement Thursday.
READ MORE: Rapid rise of the ruble is over – Bank of Russia
The daily purchases will be about $100 - $200 million, and the number of interventions could be changed, "in case of significant changes in a currency market," the regulator said.
The CBR decided to start regular purchases from May 13.
The ruble dropped sharply in the first minutes of trading on the Moscow Exchange reaching 50.07 against the US Dollar at 10:03am MSK and 57.15 against the euro. The currency closed the day at 50.1 against the greenback after hitting an 18–week high on Wednesday.
READ MORE: Russian ruble hits 18-wk high
Before letting the ruble float freely in November 2014, the CBR tried to keep a strong and stable currency rate by selling hard currencies from its international reserves. This intervention saw the reserves fall from $472 billion a year ago to $356 billion in May 2015.
You can share this story on social media: