​Eurozone grows fastest in two years, as France leaves Germany behind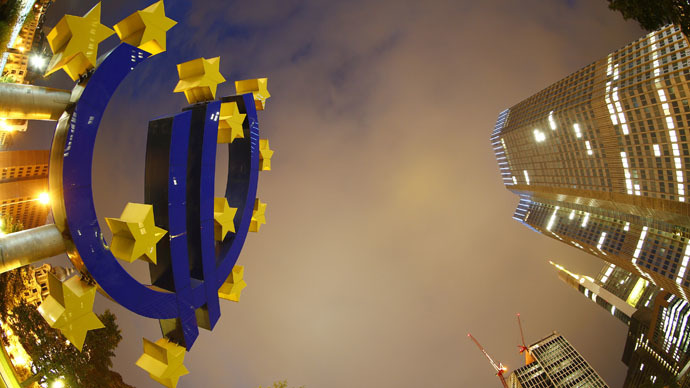 The economy of the eurozone is showing signs of recovery, growing by 0.4 percent in the first quarter of 2015 which is the best quarter in the last two years. Stronger growth in France and Italy compensated for a slower Germany.
The GDP of the eurozone increased one percent in annual terms, the European statistical agency Eurostat reported Wednesday.
The economy of the EU countries has shown growth of 1.4 percent compared to the same period in 2014.
France in the first quarter of 2015 showed the highest growth rate of the past two years. The country's GDP increased 0.6 percent in the first three months, according to France's National Institute for Statistics and Economic Studies.
Euro area GDP up by 0.4% in Q1 2015, +1.0% compared with Q1 2014 #Eurostathttp://t.co/kHA60SNaZkpic.twitter.com/E5ztjqT5J6

— EU_Eurostat (@EU_Eurostat) May 13, 2015
Another positive factor was the performance of Italy – the country's GDP increased for the first time since 2014. The 0.3 percent growth exceeded analysts' expectations of 0.2 percent. Investors see Italy's growth as a positive result of the reforms pursued by the Italian government. The European Commission Tuesday raised its growth forecast for the Italian economy, the third largest in the eurozone, to 0.6 percent in 2015 and to 1.4 percent in 2016.
The stronger-than-predicted performances of France and Italy made up for weaker momentum in Germany.
The performance of the German economy didn't meet analysts' expectations, having grown by only 0.3 percent instead of the projected 0.5 percent. And that is compared to the 2014 fourth quarter when the eurozone's largest economy increased by 0.7 percent.
The GDP of Greece, which continues to balance on the brink of default, lost 0.2 percent in the first quarter.
The European economy is showing positive performance due to low oil prices, the weakening euro and the European Central Bank's program of quantitative easing. However, the trend may not be sustainable unless European governments intensify economic reforms, policy makers warned.
"Strong tailwinds from cheap oil, a weaker euro and a much more aggressive ECB helped across the currency area, while the Russian risk receded and Greece's tragedy has not had a major impact outside Greece itself," as Bloomberg quotes Christian Schulz, senior economist at Berenberg Bank in London.
On May 5 the European Commission raised its GDP growth forecast for the eurozone to 1.5 percent in 2015.
You can share this story on social media: