Oil Price hits high for 2015
Published time: 4 May, 2015 18:23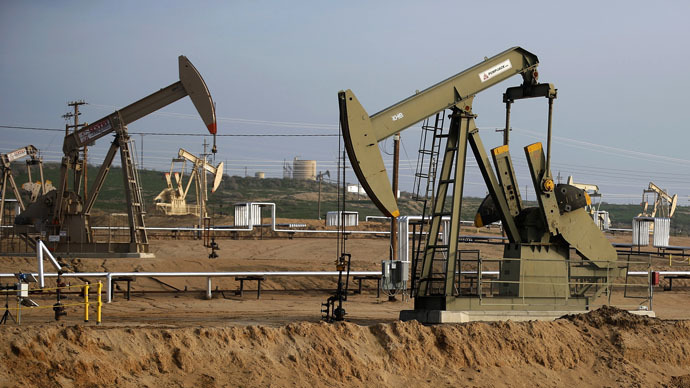 The price of Brent crude reached $67.08 per barrel on the London Stock Exchange ICE, the highest since the end of 2014.
Current oil prices show a positive trend amid expectations that higher-cost crude producers such as the United States will cut oversupply, and that economic growth will resume in China, one of the largest importers of oil. Statistics on China's business activity have stimulated recovery in the oil market in the first days of May.
Earlier on Monday, HSBC Bank published data on the business activity index (PMI) of China showing that the April index had fallen to 48.9 points from 49.2 points in March. An index above 50 points indicates a growth in economic activity, anything lower signals a downturn.
However, the weak data revived investor hopes that the Chinese authorities will take stronger measures to stimulate the economy.
"The Chinese data is weaker but it seems the oil market has had a limited reaction. What the market really wants to see is supply being cut to match the demand level," said Ric Spooner, chief market analyst at Sydney's CMC Markets, quoted by Reuters.
The situation remains tense around Yemen, where an Arab coalition led by Saudi Arabia continues to displace rebels from the region. Despite Yemen not being among the major oil producers, investors are concerned that the fighting could affect shipping in the Bab-el-Mandeb strait of the Red Sea through which Saudi Arabia transports some of its exports.
OPEC's decision in November to maintain oil production levels at 30 million barrels per day triggered a sharp decline in oil prices which had already started falling in summer of 2014. At the beginning of 2015, the price slipped to around $45 per barrel. However, from late January to early February the price of Brent recovered to $60 per barrel.
On April 18 Russian Energy Minister Aleksandr Novak predicted that the average cost per barrel in 2015 will be $60, and won't exceed $70 per barrel until 2017.