Moscow denies planning multibillion credit to Greece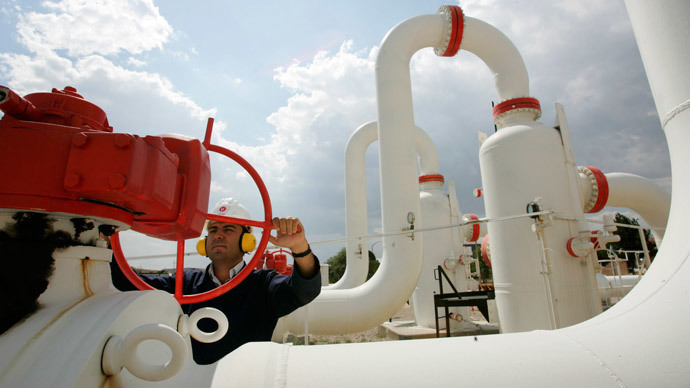 Russia denied media reports that it is going to give Greece a loan of up to $5 billion as advance payment for future transit profits from a future gas pipeline. The sum was mooted by the German magazine Spiegel.
Greece is expected to shortly join a joint Russian-Turkish pipeline project that will pump Russian gas to Europe via Turkey. The magazine cited a senior source in the Greek government as saying that the country would get from $3 billion to $5 billion in credit as part of the deal. It was reportedly agreed during Greek Prime Minister Alexis Tsipras' visit to Moscow last week.
But on Saturday, the Russian president's spokesman Dmitry Peskov said no such loan is planned.
"[Russian President Vladimir] Putin said himself during the media conference that nobody asked for our help. Naturally energy cooperation was discussed. Naturally, the parties of the high level talks agreed to work out all details of these issues at an expert level. Russia didn't offer financial help because it was not asked," the spokesman told the Russian radio station Business FM.
Earlier Greek and Russian officials said an energy deal that would have Greece join the Turkish stream project would be inked in a matter of days, but no exact date or particular terms were given.
READ MORE: Russia and Greece to ink Turkish Stream gas pipeline deal within days - Greek minister
If Russia did loan money to Greece, it would help it deal with a looming national default. The new Greek government is in difficult negotiations with Germany and the International Monetary Fund to secure further loans to help its economy. Alexis Tsipras was elected in January on the promise of stopping painful austerity measures, which foreign creditors demand for loans to continue flowing.
Turkish Stream is a pipeline project that would carry Russian natural gas under the Black Sea into Turkey and Greece. Russia initiated it after scrapping the South Stream pipeline, which would have run through Bulgaria and other Balkan states, citing obstruction from the European Union as the reason for the move.
Moscow says it plans to stop pumping gas to Europe through Ukraine once the current transit contract expires. By that time, European consumers would have to complete necessary infrastructure to take Russian gas from Greece, or find another source, Russian officials warned.
You can share this story on social media: