Vietnam and Eurasian Economic Union free trade zone deal in 'home straight' – Russian PM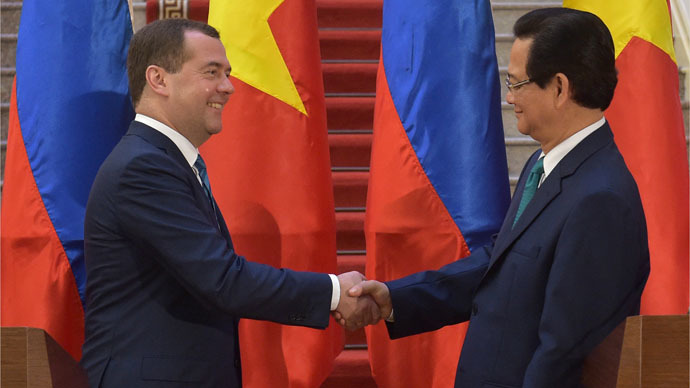 All the key issues over a Vietnamese free trade zone with the Russia-led Eurasian Economic Union (EEU) have been agreed. The deal should be sealed by July, according to Russian Prime Minister Dmitry Medvedev and Vietnamese counterpart Nguyen Tan Dung.
"The preparation of documents hasentered the home straight.All the principal issues, once again, have been discussed. I hope that we will soon be able to turn to signing this agreement," said Medvedev as quoted by RIA.
"Our turnover has slightly decreased in recent years, so, in order to improve the situation, we decided to instruct our ministries, businesses and agencies on both sides to take measures in signing an agreement on a free trade zone between Vietnam and the Eurasian Economic Union in the first half of 2015,"Nguyen said on Monday to journalists, adding that Vietnam seeks to increase trade with Russia to $10 billion by 2020.
Medvedev confirmed plans to boost bilateral trade in the five years following, noting that it fell to $3.7 billion in 2014 from $4 billion in 2013.
"We have seen some reduction in trade in the past year, which, as we have stated, will be temporary, and we are sure about it," he said adding that establishing a free trade zone between Vietnam and the EEU is going to be an effective measure in pursuing the plan.
Russian-Vietnamese projects
Russia and Vietnam also guarantee the development of Vietnamese and Russian offshore oil and gas projects. Russia's Gazprom Neft and the Oil and Gas Corporation of Vietnam signed a memorandum of understanding to acquire a 49 percent share of Vietnam's Binh Son Refining and Petrochemicals.
READ MORE: Russia and Vietnam to jointly develop energy in Arctic, Siberia
The Russian and Vietnamese delegations signed 17 priority projects for 2015 that include the supply of equipment for Vietnamese power plants, construction and technological upgrading of enterprises and the creation of industrial clusters.
Medvedev said Russia is working out the possibility of building a plant for Russian trucks (GAZ, KAMAZ, UAZ) and road equipment in Vietnam, as well as the production of rolling stock for railways.
Vietnam is currently implementing about a hundred projects with Russian investment. Russia hopes to shortly start building Vietnam's first nuclear power plant and create a Center for Nuclear Science and Technology, Medvedev said.
You can share this story on social media: